Wes Smith, a 21 year old Texas Christian University was shot and killed in a random attack outside a bar in the early hours of Friday, with the accused killer telling police he shot him in the head to 'make sure he was dead'.
Wes Smith was outside the Your Mom's House bar in the West 7th District of Fort Worth when Matthew Purdy, also 21, allegedly walked up to him at around 1am.
Cops said Purdy spoke briefly to Smith then opened fire, shooting him in the shoulder and stomach.
As Smith fell to the sidewalk, Purdy shot him in the head.
Two people who were nearby and witnessed the murder ran from the scene, and were chased by Purdy – who hit the woman running away in the back of the head with the gun.
Purdy was arrested soon after, patted down and placed in a patrol car.
An officer a short while later noticed movement, and found that Purdy still had the handgun on him.
Purdy was on probation in Tarrant County – which encompasses Fort Worth – after pleading guilty to aggravated robbery last year.
He remains in jail, held on a $500,000 bond.
Who was Wes Smith?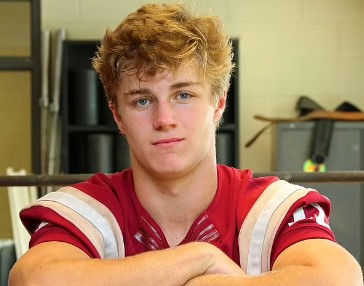 Wes Smith was a Memphis native and Texas Christian University junior.
Smith was a finance major and member of the Kappa Sigma Fraternity.
He was a walk-on with the 2021 Horned Frogs football team. Before attending TCU, he was a defensive back at St. George's Independent School and was named to the 2020 TSSAA Division II-AA all-state football team.
"Wes was a courageous and kind young man, known for his servant's heart," Timothy Gibson, St. George's head of school, wrote in an emailed statement to families. "There are no words to adequately convey what Wes and his entire family mean to St. George's."