Gloria Carter, the mother of music mogul Jay-Z, recently tied the knot with her longtime girlfriend, Roxanne Wilshire, in a lavish and star-studded wedding ceremony that captured the attention of many.
With celebrities like Beyoncé, Kelly Rowland, Tina Knowles-Lawson, Tyler Perry, and Robin Roberts in attendance, the event was a celebration of love and unity.
As news of Gloria Carter's marriage to Roxanne Wilshire spreads, many are intrigued to learn more about who Roxanne is.
So, who is Roxanne Wilshire?
Roxanne Wilshire, currently is the wife of Gloria Carter, an American philanthropist, and the mother of American rapper and businessperson Jay Z.
Roxanne Wiltshire is a philanthropist and the co-founder and President of the Wiltshire Foundation. It is a charitable foundation that aims to bridge socioeconomic, academic, environmental, health, judicial, and cultural barriers and inequalities by advocating literacy.
The organization is dedicated to serving everyone, especially the underrepresented, disenfranchised, and marginalized classes.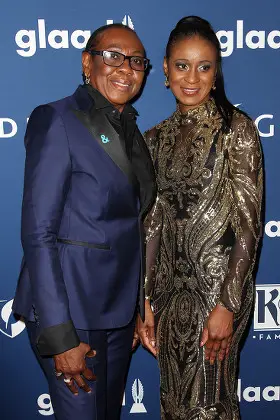 Born in Port of Spain, Trinidad, Roxanne Wiltshire is the youngest Wiltshire sister and their friends fondly call the sisters "the Wiltshire Four."
She attended the Holy Name Convent at the Port of Spain, following which she attended the John Jay College of Criminal Justice in New York.
Following that, she earned her Master's in Legal Studies from The Rutgers School of Law in Newark, New Jersey.
She is not active on her social media and also that she has chosen to keep her life private and away from the public light.
It's not clear when the two started dating, as they kept their lives fairly private until their star-studded wedding.
On 5th May 2018, Gloria Carter and Roxanne Wilshire were present at the 29th Annual GLAAD Media Awards, Arrivals, New York, USA.
Speculation suggests that their love story predates the release of Jay-Z's emotionally charged song, 'Smile,' which features Gloria Carter coming out as a lesbian.