Richard Tobin, Rachel Morin boyfriend has expressed his innocence via social media — alluding that he's had struggles with the law but has "changed as a person" as police kick off a homicide investigation.
Richard Tobin took to the Facebook comments under the couple's fresh Aug. 1 relationship status to shoot down any theories that he had anything to do with the mother of five's death.
"I love Rachel, I would never do anything to her, let the family and I grieve. Yes I have a past but I also have 15 months clean and have changed as a person. Please," Tobin wrote under the status.
Tobin has been arrested 14 times since 2014 on a variety of charges including drug dealing, assault, disorderly conduct and refusing arrest.
His lengthy rap sheet includes two arrests for criminal second degree assault, violating restraining orders, drug possession, and malicious destruction of property.
Tobin also has a number of traffic offenses, a fugitive from justice offense, resisting arrest, and disorderly intoxication and conduct marks on his record, documents show.
His most recent misdemeanor on record – second degree assault – occurred on March 14, 2020.
In an update to their statement on Sunday, Harford County Sheriff's Office said: 'At approximately 1:07 pm, a female was located deceased off of the Ma and Pa Trail in Bel Air.
The identity of the victim, as well as the cause, and manner of death are still under investigation.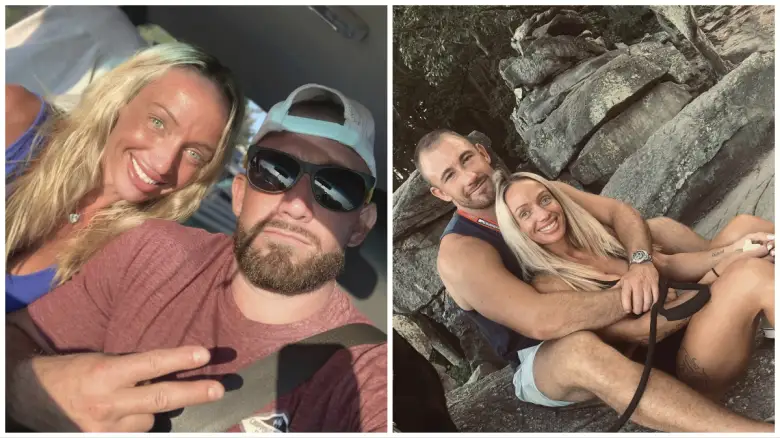 'We firmly believe this is the body of Rachel Morin. But that final determination belongs with the medical examiner and that has not happened yet.
'Thankfully we don't have too much violent crime in Harford County, but when we have one, I prefer when I can stand here and tell you that the suspect has been arrested or that it's a targeted crime.
'I can't tell you that is the case.'
'I'm not going to go into what, physically, they observed at the scene. But investigators believe sadly that it's a homicide case.'
Just days before her disappearance and death, Rachel shared snaps of her and her new boyfriend Richard.
She wrote, along with two smiley images: 'Only started taking pics few weeks ago.. but these are a few of my favorites. From the beach to the mountains.'
Morin was only 5ft 2in and weighed just 107lbs.
She was last seen wearing a blue or black tank top, black sports bra, black spandex shorts and grey sneakers.
Her car was also located at the Williams Street entrance to the trail.