Olga Kachura, a Russian female commander who boasted about how she enjoyed killing Ukrainians and whose troops fired on civilians in the Donbas region has been killed in a missile strike.
Lieutenant Colonel Olga Kachura, 52, was killed instantly after a Ukrainian missile hit her car as she was driving in the city of Horlivka, in the Donetsk region of Ukraine.
Kachura, who is Russia's first female officer to die in the war in Ukraine, was a colonel of a rocket artillery division which shelled civilians in the Donetsk People's republic.
Her unit fired on civilians in the Donbas region and Kachura later boasted that she enjoyed killing Ukrainians in interviews on Kremlin propaganda channels.
Kachura, a Ukrainian native who worked in the Horlivka Police department, reportedly defected to the pro-Russian side in 2014 after Putin fomented a rebel uprising in the Donbas.
Below are 5 facts about Olga Kachura, Russians 1st female commander who was killed in a missile strike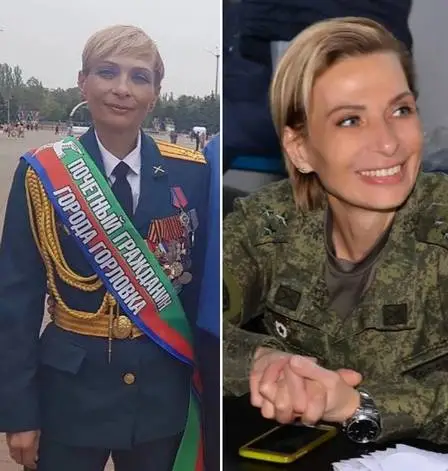 Who was Olga Kachura?
Olga Kachura was a Ukrainian separatist, colonel of the Donetsk People's Militia and a commander of a rocket artillery division.
She worked in the Ministry of Internal Affairs of Ukraine from 1996 to 2012, having gone from an investigator to the chief of staff of the Kirov regional department of the Donetsk city police department.
She rose to the rank of lieutenant colonel of the Militsiya.
Date of Birth/ age
She was born on 12 May 1970 in a town called Donetsk and died on 29 July 2022 – she was 52 years old.
Education
She graduated from the military department of the Donetsk Polytechnic Institute with a degree in software developement for ballistic missile guidance systems.
Personal life
At the time of her death, Kachura was married, had a daughter and an adopted son.
She was engaged in powerlifting and headed the Horlivka Powerlifting Federation.
Russo-Ukrainian War
Kachura had been participating in the Russo-Ukrainian War since 2014.
She served in the 3rd separate motorized rifle brigade "Berkut" of the 1st army corps of the DPR.
She also commanded a rocket artillery division.
Kachura was killed by a missile strike on 29 July 2022 in Horlivka.
Fact Check
We strive for accuracy and fairness.
If you see something that doesn't look right, email us at  [email protected]