Deontay Wilder is a 36 year old American Boxer who held the WBC heavyweight title for five years between 2015 and 2020. 
On 22nd February 2020, he lost his title to Tyson Fury after defending it ten times. 
After a decade-long wait for a world heavyweight champion, Deontay ended it by winning the WBC heavyweight title in 2015.
While defending his title, Wilder showed characteristic ruthlessness by knocking out opponent after opponent. 
This piece is not about the fight or Deontay Wilder's accolades, but rather it is aimed at giving readers a little glimpse into Telli Swift, Deontay Wilder's wife-to-be, as fans are curious to know more about her.
Date of Birth
Telli Swift was born in the Philippines on 24th January 1987. 
Early Life and Career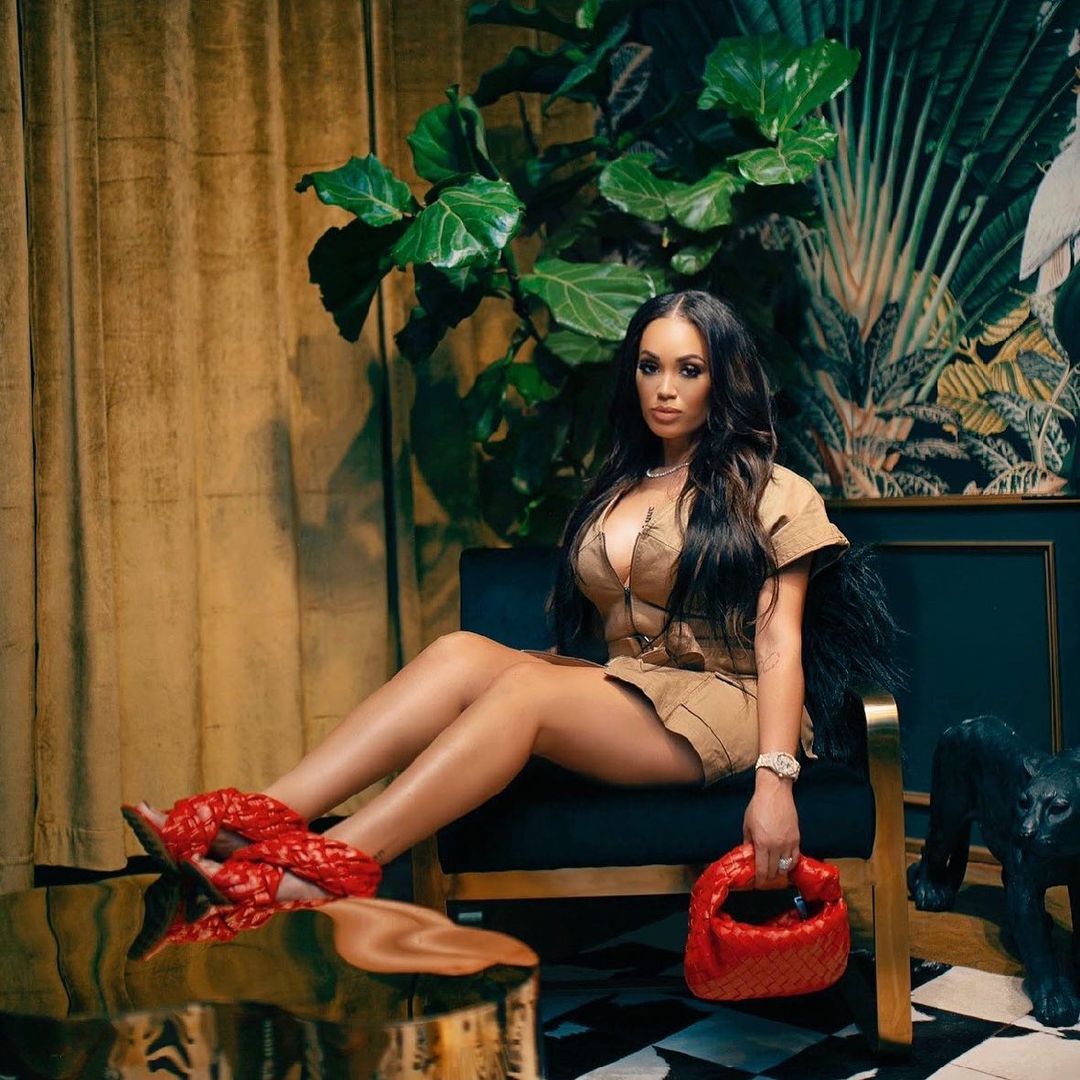 Shuntel was her birth name, and the name Telli only came to her when she became famous.
From an early age, Telli was destined for greatness. 
Knowing her daughter's modeling skills, Telli's mother made every effort to ensure she had plenty of opportunities to showcase her abilities. 
Telli began participating in photoshoots and beauty pageants by the age of three.
She worked as a model before appearing on WAGS Atlanta.
After having her second child, she left the show and now works as a fashion designer.
Telli Swift & Deontay Wilder Relationship
 

View this post on Instagram

 

The two were attracted to each other from the moment they met in Los Angeles. 
The first move was made by Wilder, but Telli's friend interrupted their conversation. 
Delontay was persistent and got in touch with Telli via Instagram. 
Telli told The Sun;"I completely stopped talking to him and told my friend what happened with my leg and he left. Leave it to IG DMs we got in touch with each other two weeks before my family reunion which so happen to be in Alabama where Deontay is from. The rest is history."
The relationship became serious quickly, and Telli expressed concern about Wilder's commitment to their relationship early in 2018. 
Her desire was for him to propose, but he seemed reluctant to do so. 
She even considered getting her own place in order to compel Deontay to commit.
The reason Deontay was reluctant to propose to Telli was revealed in an episode of WAGS. 
He stated in an interview with Andre Caldwell and C.J. Mosley;
"I love the girl. She's got my heart. That's my baby, that's my best friend… Even though I know I got a real woman and I love her to death, I know that I could give my all to a person and still get fucked over… I'm definitely not closed- minded about it, 'cause like I said, I found my best friend."
Afraid of being broken heart again, Wilder was hesitant to take the risk.
During their child's gender reveal party in 2018, Wilder proposed to Telli.
Finally .. The Proposal
In the end, Wilder was able to overcome his fears, and he proposed to Telli at the perfect moment. 
The proposal took place on a special episode of WAGS Atlanta during the child's gender reveal party. 
With a giant rock, Wilder proposed to Telli, promising to be the man she had always desired.
Telli's day was filled with emotion. 
She found out that she was having a daughter, and she was finally engaged to Wilder. 
On 15th February 2018, Telli posted a video on Instagram showing her best moments with Wilder. 
She captioned the post; "Everyday is a day of love with you… But I just wanted to let you know how much I appreciate you as a best friend, love, and father of my child. I love you to the moon and back, but you know that though! It's time to handle business now @bronzebomber in full effect, but forever here we come!"
The couple has been engaged for three years, and they haven't announced a wedding date yet. However, they still look happy and very much in love.
Children
 

View this post on Instagram

 

Wilder and her produced one child, and she also had another child from a previous marriage.
Just like her fiancé, Telli is divorced and has a son from a previous relationship. 
Kerron is his name, and his baby sister is Kaorii Lee Wilder. 
Telli and Wilder had Kaorii as their firstborn.
Telli's Instagram is dominated by Lee and Kerron, and you can see how much she adores them.
Fact Check
We strive for accuracy and fairness.
If you see something that doesn't look right, email us at  [email protected]