Lee Allen Elsbury has been identified as the individual who allegedly exchanged gunfire with deputies, officer in Buda.
Lee Allen Elsbury is a 46-year-old man from Marble Falls.
Elsbury has an extensive criminal history, and currently has a warrant out for his arrest out of Austin.
What happened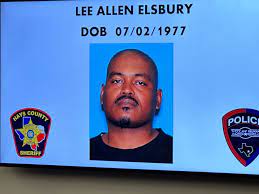 According to a release from HCSO, a Buda police officer made a traffic stop just before 4 a.m. in the 15000 block of the Interstate 35 service road, near the McDonald's and Chevron at the Main Street crossing.
The person in the vehicle got out and allegedly pointed a firearm at the Buda PD officer, who then fired at the person, according to HCSO.
The officer called for help and began chasing the person on foot, and more gunfire was exchanged, the release said.
HCSO deputies responded to the scene, and they and the Buda officer found the person shortly after.
HCSO deputies engaged with him and also discharged their firearms.
According to HCSO, the person was struck multiple times and fell to the ground, and officers immediately started life-saving measures and called EMS.
He was taken into custody and transported to a local hospital, where he remained in critical condition as of Tuesday afternoon.
Buda PD is planning to file the following charges against Elsbury: attempted capital murder, two charges of aggravated assault on a peace officer with a deadly weapon, failure to identify a fugitive, and possession of a firearm by a felon.