Daasebre Oti Boateng, Omanhene of the New Juaben Traditional Area in the Eastern Region, passed away at the age of 83.
He passed away a few weeks ago after a brief illness.
We have included a brief biography of him below.
Biography
Daasebre Oti Boateng was a Ghanaian statistician, academic, traditional ruler, and the Omanhene (paramount chief) of New Juaben in the Eastern Region.
He also served as president of the Eastern Region House of Chiefs.
Traditional rule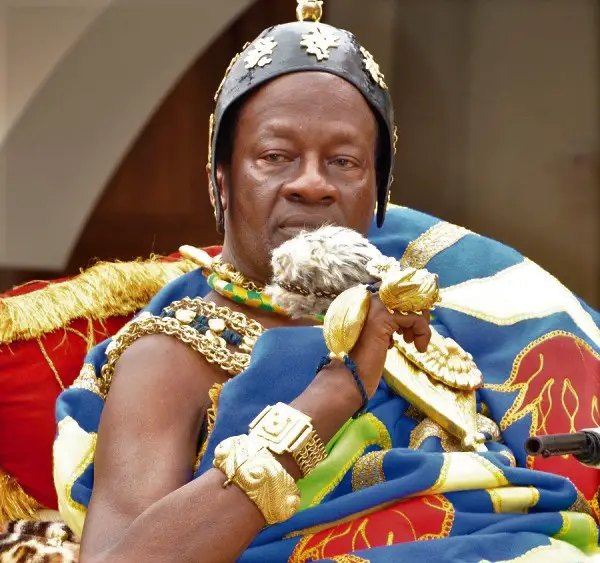 Daasebre Oti Boateng acceded the New Juaben Stool in 1992, succeeding his elder brother, the late Daasebre Nana Kwaku Boateng II.
There were plans to launch the celebration of his 30th anniversary on the stool next year.
He was a member of the Yiadom-Hwedie Royal Family of Juaben, Ashanti, and New Juaben. His mother was the queenmother of Juaben in Ashanti.
As a traditional ruler, Daasebre Oti Boateng strengthened the New Juaben Traditional Council as a local institution for the prosperity of the people.
He institutionalised the first traditional festival in post-independence Ghana – the Akwantukese or the Great Migration – which brings into contemporary prominence a missing but critical and major event of Asante history in Ghana.
Education.
Konongo Odumasi Senior High School was where he attended secondary school.
Daasebre Oti Boateng earned a Bachelor of Science (BSc) degree in Economics from the University of Ghana.
He continued his studies at the London School of Economics and Political Science where he received a Master of Science (MSc) in Statistics.
Oti Boateng has also earned a Doctor of Philosophy (Ph.D.) in Statistics from the University of Liverpool, United Kingdom.
Career
In private life, he was known as Professor Emeritus Emmanuel Oti Boateng, a global expert in statistics and recipient of numerous awards, including being named one of the world's greatest minds of the 21st century by the American Biographical Institute.
He was appointed Government Statistician in 1982 and served with distinction for a record period of nearly 18 years until 2000.
The 1984 census was conducted successfully by him in spite of being under a military curfew for the entire country.
Approximately 15 years later, he was elected to serve as the first African Chairman of the International Conference of Labour Statisticians at its 15th session in Geneva.
He was a United Nations Commissioner for the International Civil Service Commission representing Africa south of the Sahara from 2003 until 2018.
Prior to his passing, he was Chancellor of the All Nations University in Koforidua.