Drug-related crimes often involve ingenious methods of concealment, but a recent incident in South Carolina took the concept to a whole new level.
In a bizarre turn of events, law enforcement authorities discovered cocaine hidden inside a fake pregnant belly allegedly worn by Cemeka Mitchem, one of the suspects.
The incident unfolded during a routine traffic stop, ultimately leading to the arrest and charging of two individuals involved.
This unusual case highlights the lengths some individuals will go to in order to smuggle drugs and the vigilance of law enforcement in apprehending them.
The Traffic Stop and Conflicting Information
The Anderson County Sheriff's Office's Special Investigation Division and Directed Patrol Unit were engaged in proactive patrol activities along Interstate 85 in South Carolina when they pulled over Anthony Miller and Cemeka Mitchem.
The incident occurred last month, and its peculiar nature quickly grabbed public attention.
Deputies noticed that Miller and Mitchem provided conflicting information regarding Mitchem's alleged due date, raising suspicions among the law enforcement officials.
The Escape Attempt and Unveiling of the Drugs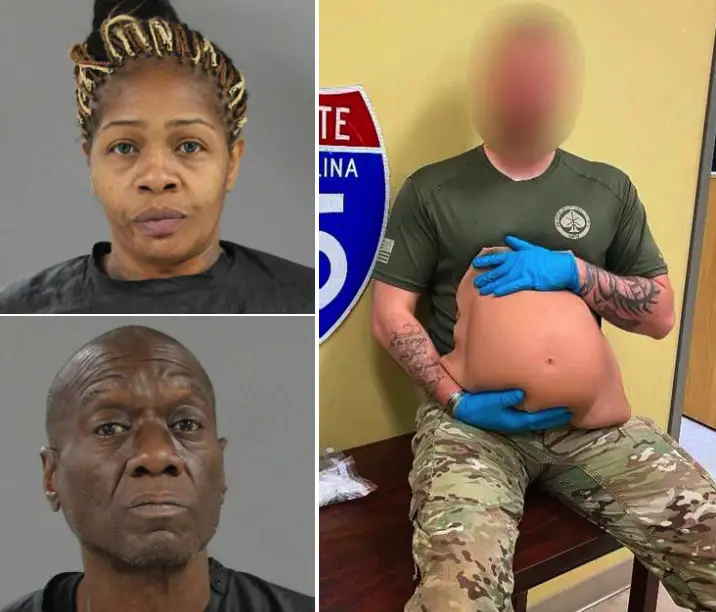 As the deputies grew increasingly skeptical about Mitchem's story, she realized the precariousness of her situation and attempted to flee.
However, her escape plan took an unexpected turn when the rubber belly she was wearing to simulate pregnancy dislodged, revealing the hidden cache of drugs.
The Anderson County Sheriff's Office, in a Facebook post, revealed that they collected over 1,500 grams of cocaine during the traffic stop. The shocking discovery underscored the extent to which criminals will go to hide illicit substances.
Charges and Potential Consequences
Following the incident, both Anthony Miller and Cemeka Mitchem were taken into custody and are currently held at the Anderson County Jail without bond.
They face charges for trafficking over 400 grams of cocaine, a serious offense in South Carolina.
If convicted, the duo could face a maximum sentence of 30 years in prison and a hefty $200,000 fine, in accordance with the state's laws.
Fact Check
We strive for accuracy and fairness.
If you see something that doesn't look right, email us at  [email protected]