The gunman who opened fire at a Virginia Walmart has been identified as Andre Bing, a manager at the store, who killed six co-workers before taking his own life.
Andre Bing's identity was confirmed by Walmart in a statement by the company which said: "We are focused on doing everything we can to support our associates and their families at this time. The alleged shooter has been identified as Andre Bing. We can confirm he was a Walmart associate."
Officials said Andre Bing was an overnight team lead who has been employed with the store since 2010.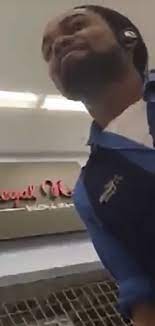 Former co-workers said Mr. Bing, whose shifts began at 10 p.m., oversaw employees as they unloaded pallets of groceries, stocked shelves and cleaned the store, which is part of a strip mall just off a nearby highway.
According to nytimes.com, two former co-workers recalled that Mr. Bing had covered up the camera of his phone with tape, saying he feared that the government was watching him.
"Everyone called him weird," said Shaundrayia Reese, 27, who worked on the store's overnight crew from roughly 2015 to 2018. "That was all anyone could say about Andre."
Ms. Reese said that while employees largely managed to get along during shifts, Mr. Bing could be temperamental and sometimes showed a "nasty attitude," leading to complaints from his subordinates.
Nathan Sinclair, 21, who previously worked as a manager on the shift before Mr. Bing's, said they occasionally clashed over workplace matters, including one particularly intense argument in October over unloading a truck.
"He had an attitude," said Mr. Sinclair, who left his job this month, just short of a year after starting there. "He was kind of aggressive. There were moments where he was OK, but he was definitely hard to work with and a little hostile."
Mr. Sinclair said that, on most nights at about 10:15 p.m. — about the time that the shooting took place on Tuesday — Mr. Bing would assemble his team for a meeting, handing out assignments and passing along any notes from earlier shifts.
Mr. Bing seemed not to have much of a life outside of the store, according to those who knew him, including Josh Johnson, 30, a maintenance employee who worked at the store until a few years ago.