To be born to celebrities comes with great joy. In most cases, it's likened to being born with a silver spoon in your mouth.
However, to grow and craft your own path – one that gives a reputable name for you too – in a totally different discipline from what you grew up in is remarkable.
This is the story of Zulekha Haywood, a Black American business executive who has earned the respect of the business world in America in every right. 
Let's discuss Zulekha Haywood, the daughter of former American model Iman Haywood and former basketball star Spencer Haywood. 
Who is Zulekha Haywood?
Zulekakha Haywood is an American businesswoman, analyst and accountant.
She was born to former basketball player Spencer Haywood and former model and business owner Zara Mohammed Abdulmajid, popularly known as Iman.
She was born in New York on July 5th, 1978 but now lives in Witchita, Kansas.
Her parents married for ten years, between 1977 and 1987 after which they got separated.
She is the only daughter of her parents but has 5 other siblings; 3 from her father's next marriage and 2 from her mother's next marriage.
Who wanted custody for Zulekha after the couple's divorce ended up in a court battle which lasted for six years, after which her mother Iman got custody of her.
This however didn't prevent her father from seeing his daughter. 
Career
The remarkable thing about Zulekha Haywood's journey is her firm decision build a brand for herself and also make a name for herself away from her parent's fame.
She chose a life in the corporate world and a life away from the media eye, but when you are born to stars, you simply can't escape the media, can you?
She started working for her mother's company, Iman Cosmetics in 2002 as an Executive Assistant Office Manager and was promoted to Account Manager in 2005, where she handled all the accounts of the company.
Through her over a decade of working in her mother's company, she helped ink major deals as well as fostering collaborations with big companies such as Wal-mart, HSN, Walgreens, etc.
She moved to start working with Jay Manuel Beauty as a project and manager and brand analyst in 2014.
She has moved on to work with other big companies since 2014, inking her name in the business world as one of the super names in brand analysis.
Zulekha's Physical Appearance
One of the biggest battles she's had to fight is with her weight. She was diagnosed of an eating disorder at a young age and struggled with obesity.
It took a joint effort of both parents to get her to lose weight.
Due to regular exercise, she reduced from 149kgs to 63kgs.
Age
Zulekha Haywood was born on 5th July, 1978. Calculatedly, that makes her 44 years of age.
Husband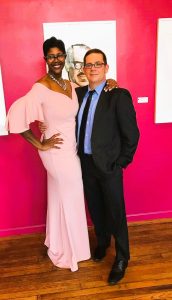 She is happily married to her longtime boyfriend Jason Young.
He is a business man and a restaurateur.
They got married in 2016.
Net worth
With the very remarkable CV she has in the business world, she is definitely a wealthy woman. 
She has a net worth of 4.8 million dollars.
Children
Her 2016 marriage to Jason Young has produced a beautiful daughter.
She was born to them in 2017.
Her parents and the couple shared the happy news on their social pages.
Fact Check
We strive for accuracy and fairness.
If you see something that doesn't look right, email us at  [email protected]