Yung Miami got candid about her bedroom activities during the latest episode of her BET-nominated show Caresha Please.
The City Girls rapper sat down with veteran rapper Trina and the pair got into a raunchy bedroom discussion during the so-called "Resha Roulette" Q&A game.
The game involves players taking a card and share the whatever the details out loud.
If the details match the actions of the person, they have to take a shot.
In this case, Yung Miami shared that the card said she had to take a shot if she enjoyed golden showers.
It says take a shot if you like golden showers. I Do," YM shared in between laughs. Trina, taken aback by the admittance, asked, "Meaning when the guy pees on you. Pee on you everywhere, you like it?"
"I just like it. I don't know, it just do something to me," YM fired back as she got ready to down a shot.
After Yung Miami shared that she has an interest in golden showers, it didn't take too long until social media ran with it and reacted to it.
Folks now have Pee Diddy trending because of the moment.
Pee Diddy isn't how I wanted to wake up this morning. 😐🤮 Nasty mfer 🤣 pic.twitter.com/acmB3qQBz1

— NΞRO (@ok_nero) January 20, 2023
Who ever came up with the term "pee diddy" should be made to walk to Brooklyn for some cheese cake.

Straight up. pic.twitter.com/iNA54KaPS6

— NewDemocrat4Life (@reesetheone1) January 20, 2023
What Yung Miami is thinking to herself right now ……..#PeeDiddy pic.twitter.com/aB6UP2b6MD

— CyclopsIsBetterThanWolverine (@Krakoan4Life) January 20, 2023
Out of Caresha's whole interview with Trina, the only take-aways people have are her liking golden showers and Pee Diddy. pic.twitter.com/yQz2QAGjXX

— Champagne Sissy 🥂 (@voodoopucci) January 20, 2023
Yung Miami when Pee Diddy wastes his pee in the toilet instead of her pic.twitter.com/whURgWp7JE

— Stop the 🧢 (@RonnieThaGreat) January 20, 2023
Pee Diddy announces collaboration with R. Kelly pic.twitter.com/44fqQ1xxJO

— Jdab (@JDabz87) January 20, 2023
Pee Diddy pic.twitter.com/6mMjB3pRsR

— Menace to Sobriety (@shabeknowin) January 20, 2023
Yung Miami when Pee Diddy wastes his pee in the toilet instead of peeing on her pic.twitter.com/SsWsF3bDX7

— 🤞🏽 (@IGTVCheaters) January 20, 2023
Pee Diddy: "I have to use the bathroom"

Yung Miami: pic.twitter.com/nbSZzBun5b

— Stop the 🧢 (@RonnieThaGreat) January 20, 2023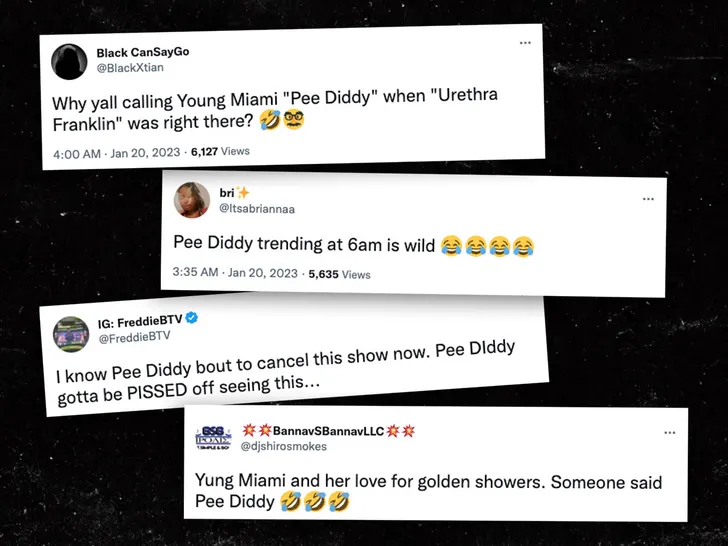 View this post on Instagram

 
What is a golden shower?
One might expect a golden shower to be where one is bathed in gold. However, it is not as modest as a person might think.
A golden shower, which is also called "water sports" is an intimate act that involves human urine. There are no rules for the same.
Check out some of the reactions of Yung Miami admitting she likes a little man rain every now and then below.
Also, we've included the episode.
Yung Miami and Diddy have been romantically involved for over a year now.
Still, things started heating up publicly after they admitted to 'dating' on the premiere episode of Caresha Please in June.