There has been an attack by Russia on Ukraine in what could be the start of a major conflict in Europe over Russia's demands for the end of NATO's eastward expansion.
It has been reported that many explosions, bombings, and Russian military vehicles took place along the Russian-Ukrainian border during the early hours of Wednesday morning.
The invasion of Ukraine is an event that many close followers of the president have feared for months, and indeed, years.
Putin had already gained the world's attention earlier this week after he ordered troops into two pro-Russian, breakaway regions in eastern Ukraine and recognized them as independent states.
The Riots between Ukraine and Russia came as of Ukraine's intention to join the North Atlantic Treaty Organisation (NATO) which is an ally force of the USA, UK, and other capitalist countries.
Russian president objected to it because it pose a security threat to the Russian. Formally Ukraine, Belarus, Georgia etc were all countries that came together to form the Soviet Union (Russia).
Remember that there are new minerals such as coal, silver, etc.
The minerals were discovered in some parts of Ukraine Donbas and that part want to attain autonomy but the Ukrainian government refused, so Americans came and supported the Ukrainian government to suppress that portion of Ukraine from attaining autonomy for their selfish interest.
So with this, Vladimir Putin ( Russian President) saw all these plans from the Ukrainians and Americans and planned very well before unleashing his armies on them recently when they intended to still join another forces (NATO) of which the Russians saw as may be very dangerous to their national security since Russians and Ukrainians share boundaries.
Why Did Russia Invade Ukraine? The Conflict Explained In 10 Points Below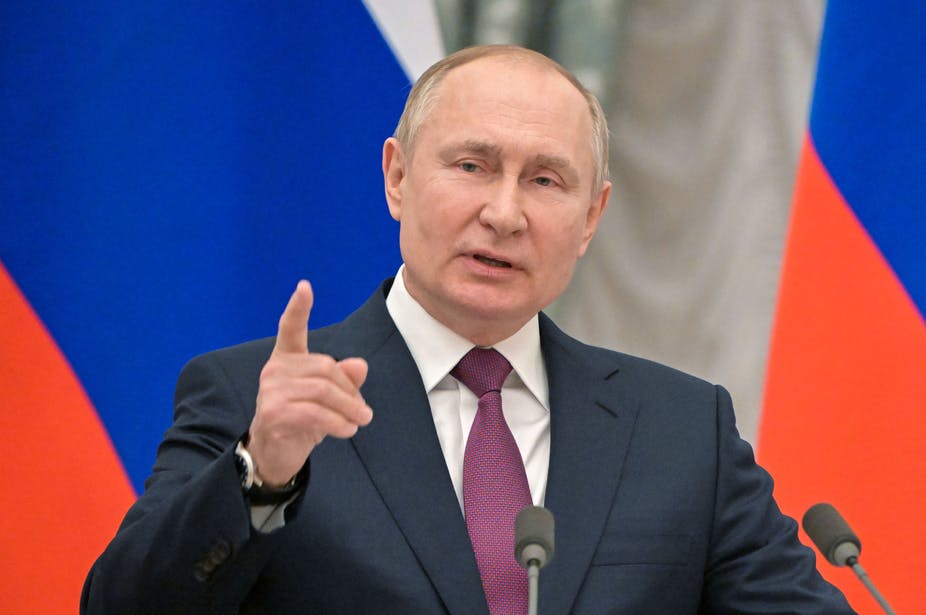 1. The tensions between Russia and Ukraine, a former Soviet republic, had been building for a long time, but they began to escalate in early 2021.
Volodymyr Zelenskyy, the Ukrainian president, tried to convince US President Joe Biden to let Ukraine join NATO in January last year.
2. As a result, Russia began sending troops near its Ukrainian border for training exercises in spring last year and increased it throughout autumn.
Toward the end of December, the US began hyping up the deployment of Russian troops, and Vice President Biden warned of severe sanctions if Russia invaded Ukraine.
3. The West has been asked by Russia to guarantee that NATO will not have any military presence in eastern Europe and Ukraine.
According to Vladimir Putin, Ukraine has been a puppet state of the West since its founding.
4. It is not the first time tension between Russia and Ukraine has reached a boiling point. During 2014, Russia invaded Ukraine as rebel groups backed by President Putin gained control of large swaths of eastern Ukraine.
Since then, Ukrainian forces have been fighting Russian forces. At that time, Russia had annexed Crimea.
5. As a former Soviet republic Ukraine has deep social and cultural ties with Russia, and Russian is widely spoken there, but ever since Russia invaded in 2014 those relations have frayed.
6. In early 2014, Russia attacked Ukraine after its pro-Russian president was ousted. This conflict has claimed over 14,000 lives.
7. A peace accord was signed by Russia and Ukraine in Minsk to end the armed conflict in east Ukraine, including Donbas.
But as the conflict has continued, Russia says it is sending "peacekeepers" to the region where the conflict is brewing. The West calls it a smokescreen by Moscow to occupy sovereign territory.
8. The new tensions between Russia and Ukraine, which borders the European Union, have implications for the EU as well. Because of this, the EU, most of which are NATO signatories, have also announced sanctions against Russian entities.
9. Emmanuel Macron, the French President, flew to Moscow only weeks ago to talk to President Putin about reducing tensions.
10. The Indian government has called for a diplomatic solution to the crisis between Russia and Ukraine.
Conclusion
This is why Putin said anyone who condemns what they did, they will face that country squarely because they are very much prepared with armies.
Moreover, the Russians have the support of china.
Remember China and USA are also at loggerheads because of trade liberation.