Coronation Street and Love Actually star Wyllie Longmore died on Wednesday, January 4, 2023, at the age of 82.
His daughter confirmed Wyllie had passed away peacefully on Wednesday.
Wyllie Longmore cause of death
It is unclear exactly what caused Wyllie Longmore's death, but his daughter says he had been battling cancer for a number of years before he passed away.
The news was announced by his family in a statement on Friday, who revealed the actor passed away peacefully with his wife by his side following a battle with cancer.
Read statement below
She said: "I want to share the news that my father, Wyllie Longmore passed away yesterday evening. He had been living with Cancer, but passed away peacefully with my mum by his side.
"Those of you who know me will know that I am not prone to public announcements on social media, but I know the influence my dad goes way beyond our family; so I wanted to share this news with you all.
"Please feel free to share this news in your networks. I will post information in due course about the quiet funeral we have planned and the celebratory stuff event of his life and career, that will come later.
"Wyllie was a much loved husband, father, grandfather, brother and uncle and will be very sadly missed."
Who was Wyllie Longmore?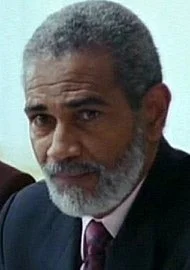 Wyllie was best known for playing Dr. McKinnon in Corrie in the Nineties and also had roles in The Bill, Between the Lines, Casualty, Merseybeat, Waking the Dead and Cold Feet.
Wyllie was born in Jamaica and moved to the United Kingom in 1961 before honing his craft at Rose Bruford College in south London.
He made his soap debut in 1992 when he starred as Dr McKinnon on Coronation Street, treating Don Brennan (Geoff Hinsliff) following his car accident.
Wyllie also starred in festive favourite Love Actually, playing an advisor to David, the Prime Minister (Hugh Grant).
As well as his work in TV, Wyllie starred in several theatre productions and won Best Actor at the Manchester Evening News awards for his performance in Athol Fugard's My Children! My Africa! at the Octagon Theatre in 1995.