Jack Teixeira, hails from a patriotic family with a history of military service.
Teixeira, who was taken into custody at his mother's home in North Dighton, Mass., followed his stepfather Thomas Dufault, into the Air National Guard's 102nd Intelligence Wing.
His mother has dedicated herself to a slew of nonprofit organizations serving veterans over the years.
For Teixeira's family, his shocking arrest for allegedly leaking highly sensitive intelligence records online appears to clash with their decades of military service and patriotic zeal.
Here's what we know so far about Jack Teixeira stepfather, Thomas Dufault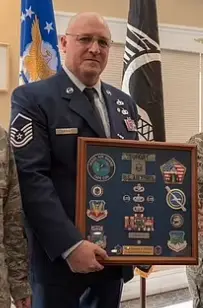 Teixeira's stepfather, Thomas Dufault, and his mother live in the single-family home in North Dighton, east of Providence, RI, where the the Guardsman was nabbed by federal agents.
Thomas Dufault had ended his 34-year military career with a ceremony in 2019 at the same air base in Cape Cod in which Teixeira had been working night shifts and which is host to the 102nd Intelligence Wing.
Thomas has a pilot, mechanic and real estate licenses, according to online records.
Meanwhile, Teixeira's mother, Dawn Teixeira, 54, runs a flower shop in the area, Bayberry Farm & Flower Co.
She posted on the business' Facebook page on Veteran's day in 2021 a tribute to her husband Dufault, stepson, father-in-law, and son Jack, all of whom had served in the armed forces.
Fact Check
We strive for accuracy and fairness.
If you see something that doesn't look right, email us at  [email protected]