A well-known American author, Rinella is also a prominent media personality, whose books and works as a Tv presenter have gained him a wide range of recognition.
He is presently the author of six books, all of which pertain to hunting and outdoor lifestyles.
He has enjoyed a successful career in the television industry, hosting and appearing in shows such as The Wild Within (2011), Stars in the Sky: A Hunting Story (2018), and MeatEater (2012-2018).
Regarding his personal life, he has been married to Catherine Finch for many years.
So who is Steven Rinella's wife?
| | |
| --- | --- |
| Date of Birth | May 18, 1979 |
| Real Name | Catherine Parlette Finch |
| Nickname |  Katie Finch |
| Birthplace | Saugatuck, Michigan |
| Age | 42 years old |
| Partner | Steven Rinella |
There is not much information available about Catherine Finch, but we have learned that she has been married to Mr. Steven Rinella since 2008.
They first came into contact in 2006 when Steven sold his first book, 'The Scavenger's Guide to Haute Cuisine'. 
In celebration of the sale of his book, he met with his editor in New York City, who brought Katie along with them.
He explains in an interview with Glamour how he fell in love with Katie even though she wasn't the type of person he expected to end up with.
The type of woman Steven is usually attracted to is the "rugged outdoorswoman", and Katie is the complete opposite of that.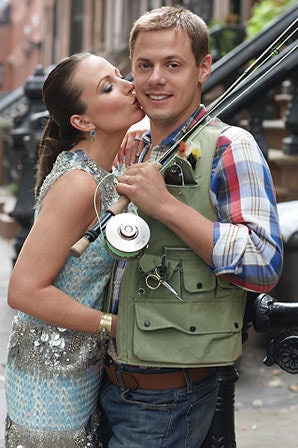 They have three children together, two boys and one girl.
Jimmy is the oldest child, Matt is the middle child, and Ross is the youngest child.
Despite being in the public eye, Steven and Katie have kept details about their children private.
Also, due to his desire to maintain privacy, he always posts pictures of his children without revealing their faces or he hides their faces with stickers.
Additionally, Katie doesn't seem to show her personal life on social media, since her Instagram account (@kfinchrinella) is private, and Steven doesn't post pictures of her on his account.
Catherine currently works for MeatEater, Inc. as the Chief Officer of Communications, Integration, and Partnerships. 
Fact Check
We strive for accuracy and fairness.
If you see something that doesn't look right, email us at  [email protected]