Louis Mckechnie, a 21 year-old supporter of youth led climate movement Just Stop Oil, caused an eight-minute stoppage of play after he used a cable tie to fasten himself to the goalpost at Goodison Park.
Who is Louis Mckechnie?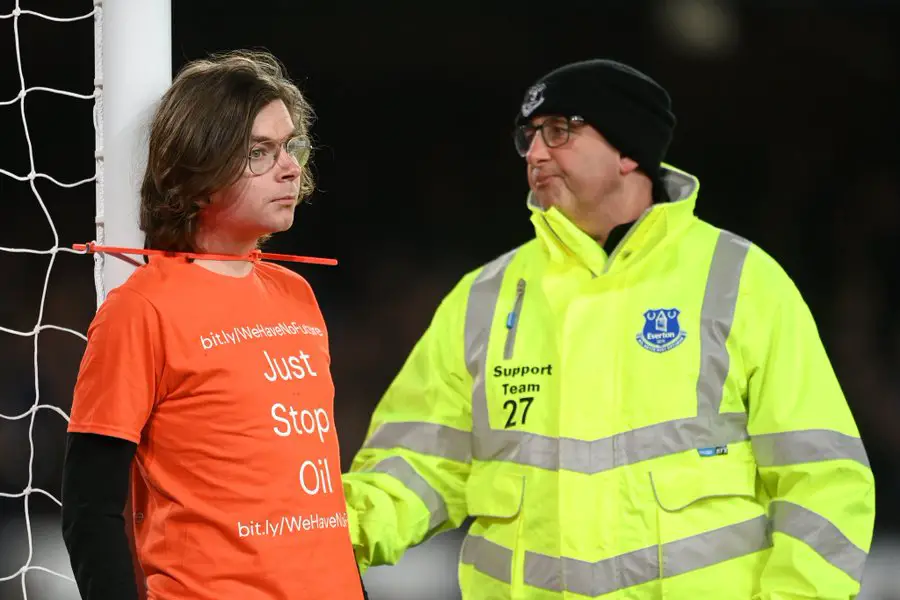 Louis Mckechnie is a mechanical engineering student who belongs to the group called 'Just Stop Oil' that is protesting the new oil fields in the North Sea.
He was wearing a 'Just Stop Oil' shirt when he invaded the field.
Moments after Thursday's incident, 'Just Stop Oil' took to social media to claim responsibility.
"It's 2022 and it's time to look up, time to step up and not stand by. It's time to act like it's an emergency," the group captioned a pre-recorded video message by the 21-year-old. 
"Report after report is telling me that my future is going to be dire, and my government is telling me not to worry and pay into a pension. But we have a choice. We can choose to highlight that our climate is breaking down, we can choose to resist this government that is betraying us, we can choose to step up and not stand by," he says in the video.
McKechnie also identified himself in a TikTok post, during which he went into further detail regarding his motivation to halt proceedings at Goodison Park.
"Hi, my name is Louis McKechnie, I'm 21 years old and I'm a mechanical engineering student," he said in the video filmed while he was outside the ground.
"I'm about to disrupt a football match and I'm terrified, but I believe that as many people as possible need to know what a possible future holds.
"Billions of people not knowing if they should stay in their homes or if they leave where they can go as countries become too hot to live in.
"Mass starvation due to crop failure, it's fighting for bread in the bakery aisle of Morrisons. The cost of living crisis, Covid and the war in Ukraine are showcasing this future.
"I want my government to do all that they can to stop this coming true but they are expanding oil and gas, making things worse, increasing the risk. We know this because the International Energy Agency told us no new oil and gas from 2021 if governments are serious about this action on climate.
In October last year, the youngster blocked the M25 for which he served a three-month sentence.