Joelle Rich, a London based lawyer is currently dating Pirates Of The Caribbean actor, Johnny Depp.
The 59 year old actor who has been single since his high-profile divorce from Amber Heard is reportedly in a 'serious' relationship with a London-based attorney who represented him in his unsuccessful 2020 libel trial against British newspaper The Sun.
Joelle Rich, 37, is a partner at major international law firm Schillings – who also represent Prince Harry and Meghan Markle – and is currently going through a divorce from the father of her two children, whom she was married to when she worked with Depp, 59, four years ago.
Joelle Rich represented Johnny in 2018
Joelle Rich was one of many attorneys who represented the Pirates Of The Caribbean actor during a trial with The Sun in the UK in 2018.
He sued the newspaper for calling him a "wife-beater," but the court upheld the outlet's claims as being "substantially true" and his ex-wife Amber Heard testified to back up the claims. In March 2021, his attempt to overturn the decision was overruled.
Joelle Rich was present to support Johnny Depp defamation case against Amber Heard
Though Rich was not on Depp's legal team this time, she did make several court appearances to show support.
She was photographed with Depp outside of the courthouse on May 3, and she was pictured hugging Depp's attorney Camille Vasquez inside the courtroom on May 16.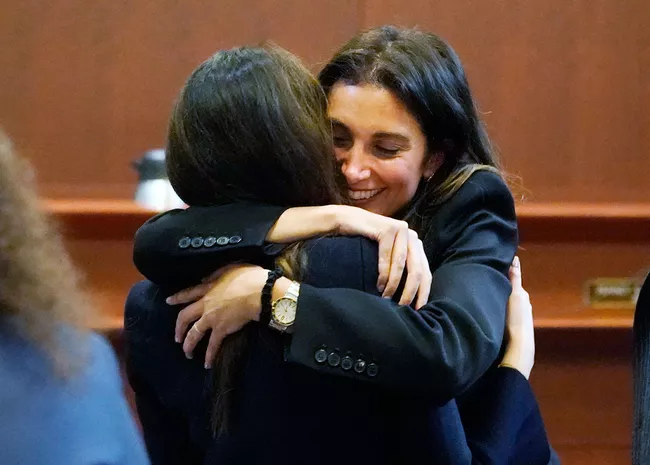 Joelle Rich on dates with Johnny in Hotels
Us claimed that Depp's relationship with Rich began 'discreetly' as they had dates at hotels so they could avoid busy restaurants where their romance could have been outed.
Rich spotted chatting with Depp in Virginia
Rich was seen chatting with Depp in Virginia in May during his trial with Heard, with whom he made the movie The Rum Diaries.
They seemed close as she was photographed outside the courtroom with the Charlie And The Chocolate Factory actor.