Carl Cavalier, a Louisiana Police trooper who stepped forward to provide information regarding the alleged cover-up of an unarmed Black motorist's death in 2019, Ronald Greene, has been fired.
His termination letter stated that Carl Cavalier was dismissed for reasons related to disloyalty, seeking publicity, and other infractions related to his "openly critical" statements about the Greene case.
"They're trying to make an example out of me to keep people from speaking up, It's a horrible feeling because I worked so hard to be a part of the department," Cavalier said in a recent interview.
There have been reports that he is responsible for leaking internal Louisiana State Police files and audio recordings that relate to Greene's death, though he has never publicly admitted it to be true.
Who is Carl Cavalier?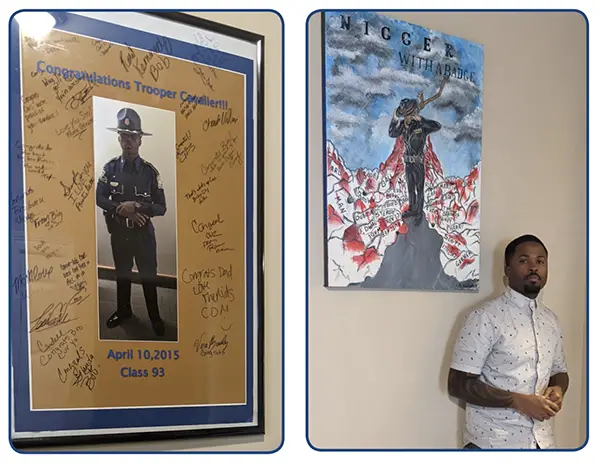 Carl Cavalier is an American police trooper who has lived most of his life on the west bank of Jefferson Parish with his grandmother due to the fact that both of his parents struggled with addiction and imprisonment.
Having previously attended John Ehret High School in Louisiana, Carl Cavalier relocated to Mississippi after Hurricane Katrina, where he graduated high school and received an undergraduate degree in criminal justice from Jackson State University.
As soon as he graduated from Jackson State University, the first job he applied for was to work for the Terrebonne Parish Sheriff's Department as a correctional officer.
Before he left that organization, he was promoted from the corrections division to the patrol division.
Cavalier, after serving in Terrebonne Parish for about four years, decided he wanted to join the state trooper.
Upon joining the state trooper, he found himself assigned to Troop C division, which is based in Houma.
In performing his duties as a trooper, he never cared if a person he stopped had friends who were officers at Troop C, or if the individual had friends who were officers at another agency, as with the ticket he wrote to the officer in Houma.
This is when the trouble began for him.
He started to receive unfair criticism for the way he handled his responsibilities.
He was being scrutinized for his tickets and reports.
In addition, his bodycam footage was being examined unnecessarily.
What compelled Carl Cavalier to speak out?
During an interview with Baton Rouge's WBRZ, he said "we still have murderers, in my eyes, on the job. Guys who received a slap on the wrist for their roles in the Ronald Greene incident are unpunished…patrolling the streets and left on the job."
As a police officer assigned to Troop C, he was disciplined over the use of his police vehicle and wearing his uniform while off duty and sparred with his supervisor for refusing to bow under pressure, while troopers who killed a man and covered it up lied about it.
Cavalier believes that the officers who were involved in the arrest and led to Greene's death, at the very least, should be fired.
Fact Check
We strive for accuracy and fairness.
If you see something that doesn't look right, email us at  [email protected]