After serving as a Buffalo police officer for 30 years, Aaron Salter Jr. spent the last four working as a security guard at the Tops Friendly Markets store on the east side of the city.
That's where he was Saturday afternoon when a gunman stalked in with a military-style assault rifle in his hands and hate in his heart and opened fire.
Authorities said Salter acted like the cop he was: He pulled out his weapon and tried to take down the gunman, whom police have identified as 18-year-old Payton Gendron.
But Gendron was wearing body armor and Salter's bullets couldn't pierce it. Instead, police say the assailant returned fire and killed Salter—whose family was mourning a man city officials said was an undeniable "hero" on a horrific day.
Who is Aaron Salter Jr?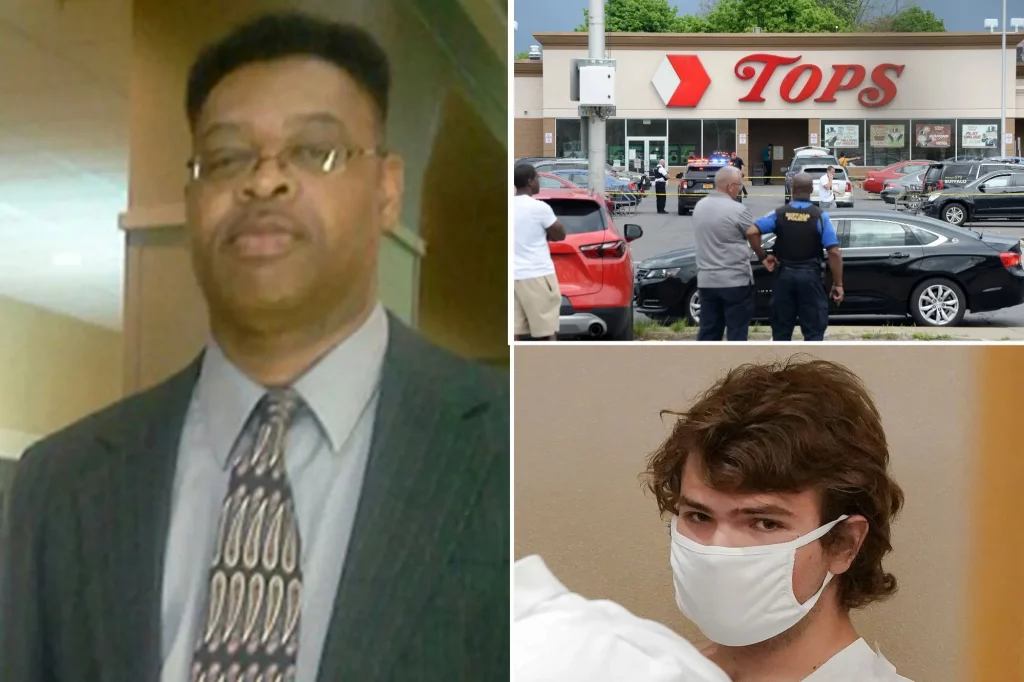 Aaron Salter Jr was an ex-cop and victim of the mass shooting in Buffalo, New York.
Aaron, a security guard, sprung into action when the gunman attacked Tops Friendly Market and opened fire.
He heroically attempted to stop the shooter but lost his life in the process.
Speaking to The Daily Beast, his son Aaron Salter III said: "Today is a shock.
"I'm pretty sure he saved some lives today. He's a hero."
Other tributes came from the mayor and former colleagues for Aaron's bravery.
Johnny Juliano, Salter's cousin, posted on Facebook: "R.I.P to my cousin Aaron "salt man " Salter jr. A true hero who risked his life trying to defend those helpless during a racist attack/ mass shooting.
"Retired BPD who was loved by all you truely will be missed and remembered for your heroic gesture.
"May god look over our family during this hard time and please pray for us and the families of all the other victims in this tragedy. Pray for Buffalo!"
What happened at Tops Friendly Market?
On May 14, 2022, a young man walked into Tops Friendly Market and opened fire on the unsuspecting shoppers.
Payton Gendron was carrying a rifle and began shooting at around 2.30pm on Saturday afternoon.