Former President John Mahama has described the fanfare that has accompanied the distribution of ambulances by President Akufo-Addo as a misplaced priority.
According to him, the government should have focused on completing the various hospitals started under him instead of putting a hold on them upon winning power.
Addressing Ghanaians in his second Facebook Live video, Mr. Mahama urged the government to prioritise essential needs of the country.
"All the hospitals that were being built to improve healthcare have been brought to a standstill and instead, they are glorifying in the distribution of ambulances. Where do ambulances take sick people to?
"So the priority is to finish the hospitals so that if an accident happens and you pick the patient, then you have a good facility to send them to. The hospitals we started have come to a standstill and yet we are distributing ambulances. So you pick the person and you take them to the hospital and they say there is no bed and accident victims are treated on plastic chairs. I mean there is a complete loss of prioritisation."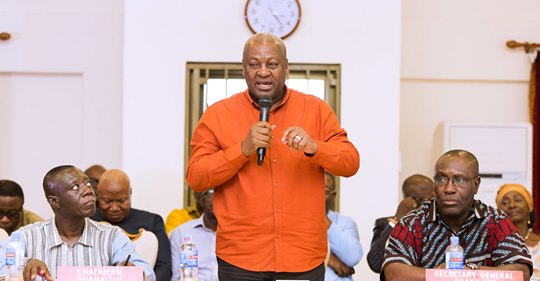 President Akufo-Addo on Tuesday commissioned and distributed 307 ambulances purchased for the various constituencies in the country after months of delays.
The ambulances were procured under the government Infrastructure for Poverty Eradication Programme (IPEP) currently being implemented by the Ministry of Special Development Initiatives.