WELCOME TO FLATCH is a half-hour comedy written and executive-produced by Emmy Award winner Jenny Bicks. 
What is the Series About?
Welcome to Flatch follows a documentary crew set out to explore the lives of residents in a small American town.
They are eager to capture their dreams and their concerns – to find out how the small town heart beats.
They stumble upon the midwestern town of Flatch, which is made up of many eccentric personalities.
It's a place you want to visit and maybe even stay. If there was a decent motel. Which there is not.
What is the Release Date of the Series?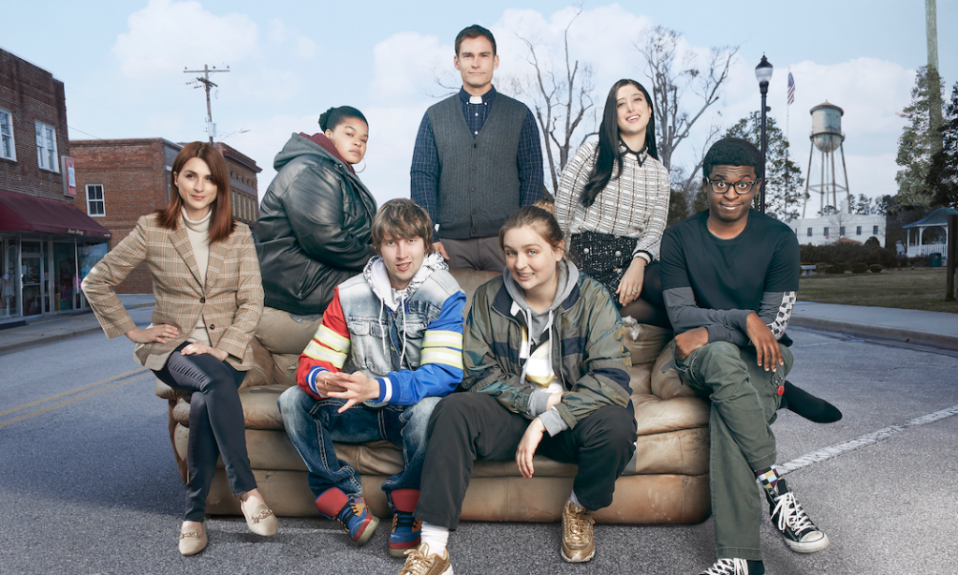 Welcome to Flatch airs on Fox Network on March 17 2022 at 9.30 PM ET/PT.
Welcome to Flatch Cast:
Holmes As Kelly
Sam Straley As Shrub
Seann William Scott As Father Joe
Aya Cash As Cheryl
Taylor Ortega As Nadine
William Tokarsky As Len
Justin Linville As Mickey
Karen Huie As June
Kyle Selig As Dylan
Tanya Jacobson As Self
Jason MacDonald As Bobby
Krystal Smith As Big Mandy
Michael Banks Repeta As Levi
Shane Callahan As Dave
Heather Rule As Jessie
Jenique Bennett As Nurse
Alisa Harris As Sheriff
Weldon Sipe As Mr. Pisswell
Robert Walker Branchaud As Daniel
Bayne Gibby As Laura
Jana Allen As Parishioner
Craig Newkirk As Chris Warner
Charles Green As Old Guy
Austin Alexander As Matt
Ginny MacColl As Kelly's Grandma
Omer Mughal As Jordan
Oliver Maximillian Corson As kid buying maps
Gabriella Cila As Angry Girl
Kimberly As Self – Flatch local
Troy Hammond As Blind Billy
Clifton Pearsall As Car Salesman
Rakesh Gosain As Maintenance Man
Eva Nicole Smedley As Young Nadine
Taylor McCall Moore As Angry Girl
Liza Francini As Girl with Cat
Trent Mayo As Rodney
Klara Wilder As Girl
Rebekah Yang As Waiter
Justin Heter As Flatch Town Local
Dasia Hill As Flatch local
Kent West As Townsperson
Chris Emrich As Restaurant patron
Ed Wagenseller As Sheriff's Deputy
Taylor Grace Boughton As Map Buying Kid
Clayton Frank As Bus Boy
Chad Michael Baird As Flatch Town Local
Caleb Wayne Glover As Self