Kotoko official , Nana Coker has in a strong defence come out to say that the club is not going down without a fight after their latest appeal in the CK akunnor case was dismissed.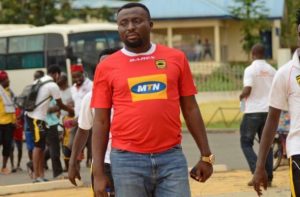 The General Manager of Kotoko, Nana Kwasi Gyembibi, popularly known as Nana Coker was speaking to Kumasi based light fm regarding the latest in the case against former Kotoko coach CK Akunnor.
Coker insisted that fhe club is determined to go to the very end to defend themselves.
A very confident Nana Coker said:
"CK Akonnor wasn't sacked by Kotoko that's why we appealed at the player status committee. We will never accept the sack of CK but he rather wrote to us that he has resigned after he was elevated so how can this be explained that his contract was terminated. We are holding out on this case with our lawyers in control, if the case must be taken to Court of Arbitration of Sports (CAS), we are ready to battle it out."
This controversy comes at a very bad time for Kotoko,who are joint top of the Ghana Premier League with 24 points.
It will be recalled that former Kotoko coach CK Akunnor was removed from his post as head coach after guiding the club to the group stage of the 2018/2019 CAF confederations cup and winning the Tier 1 of the Normalisation Committee Special Competition.