Hearts of Oak Official, Frederick Moore has bemoaned the difficulty of doing business and finding sponsorship during the COVID 19 pandemic.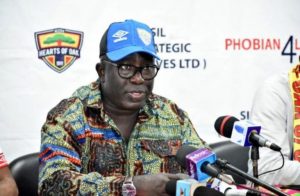 Mr. Moore was speaking in an interview where he expressed concern about the effects of the COVID 19 pandemic and how difficult it will be for clubs to survive it.
Mr. Moore has received lots of praise for his management of Accra Hearts of Oak and is looking to take the club to the next level.
Speaking to the BBC, Mr. Moore expressed concern and shared his grievances in this tough period.
"I've been wrestling with it in my head myself. Our sponsorship companies have stopped working," Moore told BBC
"We can't approach new sponsors… but at the same time we can't stand still as a club, as a business."
Hearts of Oak find themselves in a tough position in the Ghana Premier League and are out of the top 4 as at Game week 14.
The phobias still believe it is their year and with 19 game weeks to play for, they might still come good but with several loopholes in their team, they need something big in the current transfer window.
Moore and his team of officials have been on guard and doing their best to add some quality to the side.