Netflix's latest documentary "Girl in the Picture" wastes no time in revealing the horrific details of the alleged hit-and-run-death of a 20-year-old woman named Tonya Hughes.
The latest true crime documentary also details the shocking crimes committed by the murderer and kidnapper Franklin Delano Floyd.
Tonya went by several aliases, which seem to have been dictated by Floyd, including Tonya Dawn Tadlock, which was the name used in reports when she died. But her real name (a.k.a. the one her real parents gave her) was Suzanne Marie Sevakis, per the FBI.
What happened to Tonya Hughes?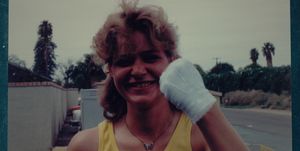 Tonya Hughes was struck by a hit-and-run driver in Oklahoma City in 1990.
Her body was discovered by a group of men, who noticed strange amounts of debris accumulating at the side of the road while driving along an Oklahoma City highway.
Tonya suffered from head injuries and was taken to a nearby hospital, where doctors found her covered in old bruises.
Five days later, she was pronounced dead.
At the time, she was going by the name Tonya Hughes.
Floyd, who was going by the name Clarence Hughes at the time, said that he had been back at a motel where he was waiting for her, per the Tampa Bay Times.
Investigators discovered that "Clarence Hughes" was actually Floyd, a fugitive.
In fact, her old classmates identified "Tonya" as Sharon, and "Clarence" as her father, Floyd, The Daily Beast reported.
After Tonya's death, Floyd went on the run again.
The new Netflix documentary suggests that Floyd may have been involved in her death due to the unusual evidence they uncovered.