Tom Holland Girlfriend: Here's what you need to know about Holland's relationship with Zendaya
Prior to Spider-Man: Homecoming's release in 2017, it was evident that Zendaya and Tom Holland had chemistry.
After years of denying they were dating, paparazzi photos of them smooching in a car have given the rumors new life.
Tom's sweet birthday shout out for Zendaya's 25th birthday was the icing on the cake.
He referred to her as his "MJ."
Let's rewind to see how we got to this adorable couple in the first place, now that we have mounting evidence to support them.
2016
Spider-Man: Homecoming brought the pair together on set. "We are like the best of friends. She's so great and amazing," Holland told People back in 2006.
2017
Rumors first started spreading during the Spider-Man press tour due to their friendly chemistry. 
Despite denying dating rumors, sources say the pair maintain a low profile. 
2018
In an Instagram post, Holland posts a photo of Zendaya in her Met Gala gown, writing, "All hail the queen. Killing it mate 🙌🏻."
2019–2020
While on vacation in Greece, Zendaya and her Euphoria co-star Jacob Elordi ignite their own dating rumors.
 Even though they never officially confirm their romance, paparazzi catch them kissing in New York City in February 2020. 
However, by September, he appears to have moved onto Kaia Gerber.  
Meanwhile, Holland goes Instagram-official with girlfriend Nadia Parks on July 27, 2020, when he posts a photo of the actor on Instagram.
An anonymous source told the Daily Mail that Parks moved in with Holland after L
 

View this post on Instagram

 
ondon was put under lockdown.
2021
Plot twist: Holland and Parks have parted ways! Tom Holland and Zendaya were spotted kissing in a car at a Los Angeles intersection at a red light .
 The photos published by Page Six show the actors walking with Zendaya's mom that same day in Silver Lake. 
According to a source interviewed by Us Weekly, Zendaya and Holland support and encourage each other.
 "They both challenge each other and balance each other out," the source says.
Zendaya and Tom Holland were photographed together at a friend's wedding.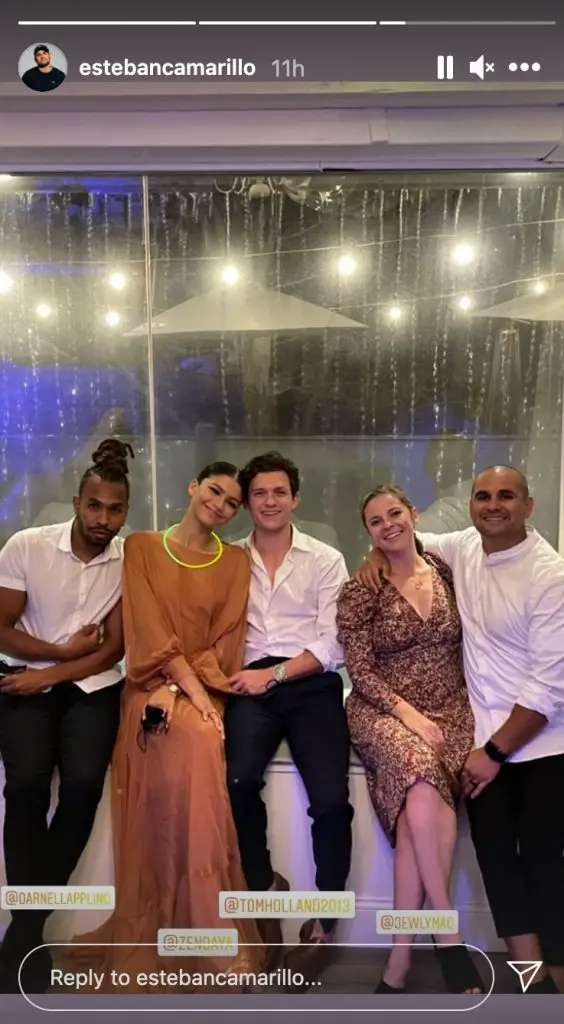 A mirror selfie of Tom Holland and Zendaya on the Spider-Man set was shared on Instagram by Tom  in honor of Zendaya's birthday. 
 

View this post on Instagram

 
In the caption he writes in character as Peter Parker: "My MJ, have the happiest of birthdays. Gimme a call when your [sic] up xxx." If Holland is trying to be discreet about their real-life romance by doing a birthday tribute in character as Peter Parker, it's not working. 
It seemed as though "My MJ" trended on Twitter in an instant as fans expressed their excitement.
A picture of Zendaya on a red carpet was posted by Holland on his Instagram account to promote her movie Dune. 
The caption was accompanied by the heart-eye emoji. 
As part of a video for BuzzFeed News, Zendaya and Dune co-star Timothée Chalamet answer questions about their friendship. 
When Chalamet is asked who Zendaya's "biggest crush" is, he says, "Easy, Tom Holland!" 
Immediately, Zendaya begins to giggle. 
Sadly, this exchange is the closest thing to a confirmation that Zendaya and Tom Holland are dating that we've ever gotten in the press.