Ghana's Version Of Skyscrapers
Modern society is now seeing a great change in the way humans are doing things. Every aspect of our lives is now refined. Civilization has given birth to science and technology. One very great aspect of today's society is the rise in architecture; construction of brides and buildings.
In the primitive times, people live in mud houses and other structures they were able to construct with their basic knowledge of nature. But now, you will see many buildings of assorted designs which will beat your imagination! The construction of buildings in general, requires a great knowledge in civil engineering; a branch of science which deals with the construction of bridges and houses.
Before a builder can be able to 'erect' a building successfully without practically setting a death trap, he or she needs to be educated in practical fields of construction. People in our part of the world are only good in constructing buildings in books. They can mix mortar and concrete in books but in real life, they cannot do anything. That is the more reason why a mechanical engineer consult a roadside mechanic when his(engineer) car breaks down.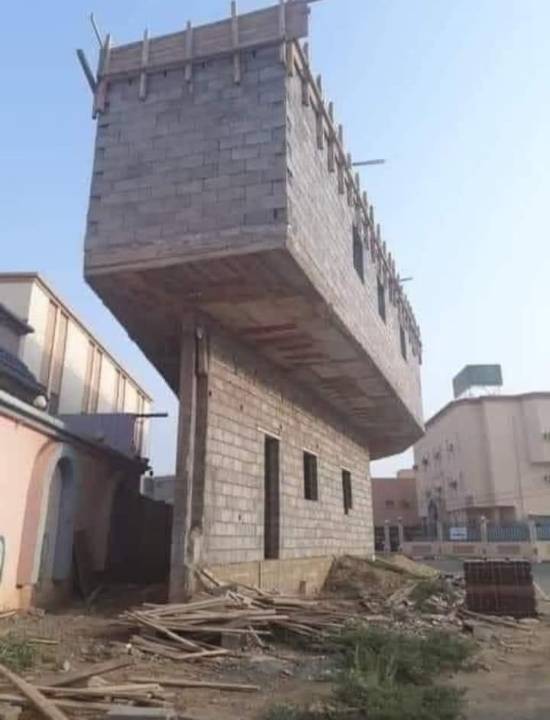 In recent times, some Ghanaians are putting up buildings which serve as death traps. There are images of awkward-looking buildings which are attracting public attention and ridicule.
The buildings in this article seem to be our own version of New York's skyscrapers. Can you imagine that? Ghanaians know very well that most civil engineers in the country cannot successfully build houses which will pose no threat to live. I'm sure if these buildings were constructed by the Chinese or any other national, it will not attract any public scrutiny. After all, we know that such people do not build their houses successfully in books and kill people with some poorly constructed buildings.
The buildings in this article are not the only weird looking buildings in the world. But since they were built with the hands of Ghanaians, they were flagged as "death traps". That's how our society has degenerated into; we know ourselves. We cannot construct the least tallest building in Ghana. It is better people are trained in practical fields rather than teaching them to commit only theories, laws and principles into memory.
People are taught to force the content of many books into their skull without having any concrete experience. Why should an engineer kill people with his hand works? This is only happening in our part of the world, where more importance is attached to the act of speaking English language and vomiting theories. Until our educational system is structured to suit our demands, we will continue seeing "death traps" as buildings.