The Spanish Primera Liga or Spanish La Liga has been suspended after fears of the spread of Corona Virus has raised concerns in the country, Madrid specifically.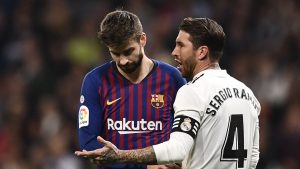 The decision to suspend La Liga was taken by the Spanish Football Federation after several days of deliberation.
Spain recorded it's first case of Corona Virus a week ago and the virus has since been spreading in the country, just like it has been spreading in Europe.
The death toll in Italy continues to rise with the nation now suspending the Serie A amd other footballing activities.
Also, Italian and Juventus CB , Daniel Rugani has tested positive for the virus. This has led to the entire Juventus team being in quarantine.
This sad news was followed by the news of a basketball player for the Real Madrid Basketball team also testing positive for the virus.
In a statement on their official website, the La Liga chiefs announced:
"Given the circumstances known this morning, referring to the quarantine established at Real Madrid and the potential positives from players from other clubs."
"La Liga consider that the circumstances are already in place to continue with the next phase of the protocol of action against COVID- 19."
"Consequently, in accordance with the measures established in Royal Decree 664/1997 of May 12, [La Liga] agree to suspend at least the next two games."