The new South African High Commissioner to Ghana Her Excellency Grace Jeanet Mason epitomizes a modern-day diplomat.
Having an exceptional trait, she has set off on a good note, ticking all the right boxes.
From traveling around the country to meet with leaders, chiefs and their people, she has also visited President Nana Addo Dankwa Akufo-Addo to present her official letters.
She has also met with the Asantehene, Otumfuo Osei Tutu II in Kumasi and Yaa Naa Abubakari Mahama II as well as toured different facilities in some industrial zones including Tema.
HE. Mason has already engaged with the President of the South Africa Ghana Chamber of Commerce, Mr Grant Webber as there are over 200 South African companies doing business in Ghana. She also hosted a meeting with Mr Yofi Grant, CEO of GIPC, and met some South African Companies.
Weeks ago, she hosted officials of a women's empowerment business company with a focus on helping African women and others to create wealth.
She has also visited The Kaya Children Day Center in Madina which is a home for young children from 3 years old. Apart from donating items to the facility, a free breast screening exercise was also held. The facility was created 10 years ago by Mama Evelyn, a South African woman and her Ghanaian Husband. H. E was accompanied on the Kaya trip by Ghana's Ambassador for Tourism, Arts & Culture to South Africa, Matthew Mensah.
To celebrate the unity sport and culture brings and the strong relationship between Ghana and South Africa, the High Commissioner arranged a live football viewing session at the High Commission residence, where guests were treated to the Afcon Qualifier between South Africa and Ghana. Amongst the invitees were Ghanaian icon and World Bank's Climate Change Ambassador, Okyeame Kwame, finance guru Duke Essiam,  UN Ambassador and Glitz founder Claudia Lumor, Businessman Kwabena Kufuor and singing sensation Adina Thembi, who is half Ghanaian, half South African.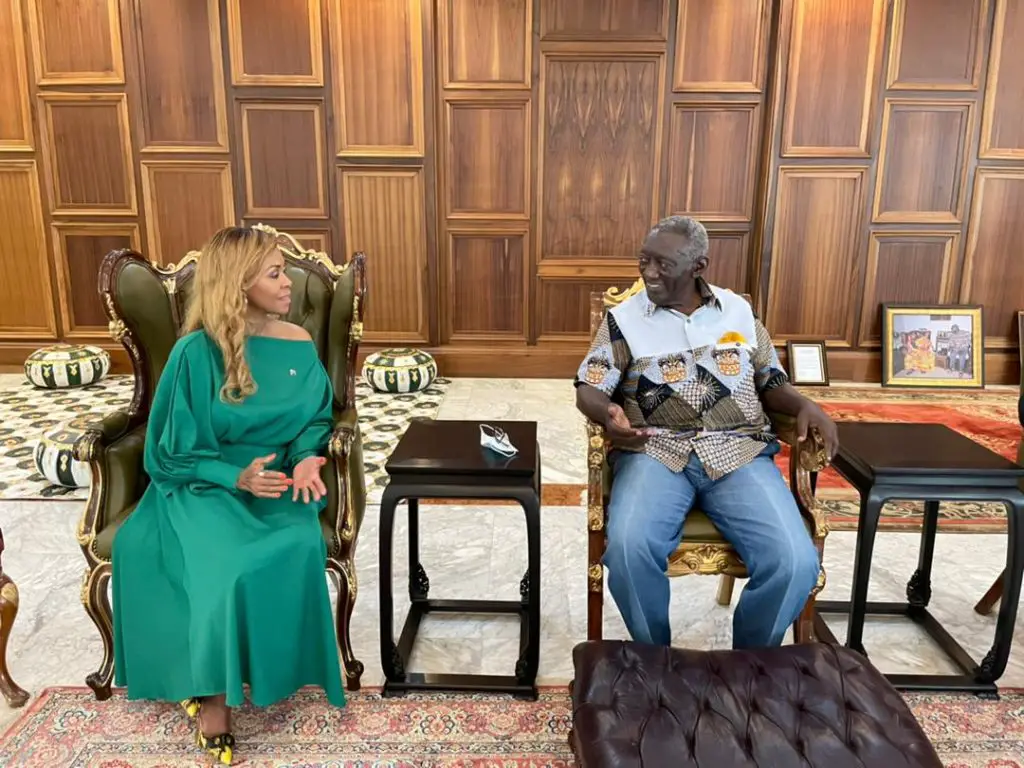 A successful personality, she comes with an incredible strong CV with over 20 years in the diplomatic sector; Chief Protocol officer for President Cyril Ramaphosa, Chief protocol Officer for former President Jacob Zuma and worked with both President Mbeki and Nelson Mandela. She was also Deputy Chief of Protocol for  Former President Motlanthe. Madam Mason enjoys incredible support from a seasoned diplomat as Deputy High Commissioner, Mr TM Madumani, who for decades has served in many missions in West Africa.
Her Excellency Mason is intentional about using her time in Ghana to impact and empower people particularly women, promote youth and culture and also strengthen the already close ties between Ghana and South Africa.
Her Excellency Grace Jeanet Mason is definitely giving diplomacy a whole new high.