Popular Nigerian music power couple, Simi and Adekunle Gold are celebrating their 3rd year wedding anniversary today.
In a heartfelt, soul warming message on social media, Simi expressed her love for her husband.
According to Simi, it's been 3yrs and Adekunle Gold is still the one she loves and the one she belongs to, and the one she kisses good night thanking him for making this journey happy for her as God is really working overtime with them.
"3 years and you're still the one I love oooh the one that I belong tooooo still the one I kiss goodnight. I love you my boy. I thank you for this journey. God really working overtime with us.
A wise man once said "luckily oh mo lowo ti mo fe na". I look forward to spending your money and rubbing your body forever kingofphotoshop. Amen". Simi captioned the loved up photo she shared.
Adekunle Gold on his own part appreciated Simi for loving him and giving him the best 3years of his life.
"I thank God for the best 3 years of our lives. Doing this life journey with you is by far the best decision I have ever made. Thank you baby for changing my life forever. I love you Magic. Adekunle Gold wrote.
It is undeniable the love and chemistry that exists between Adelunle Gold and wife Simi.
When did Adelunle Gold and Simi get married?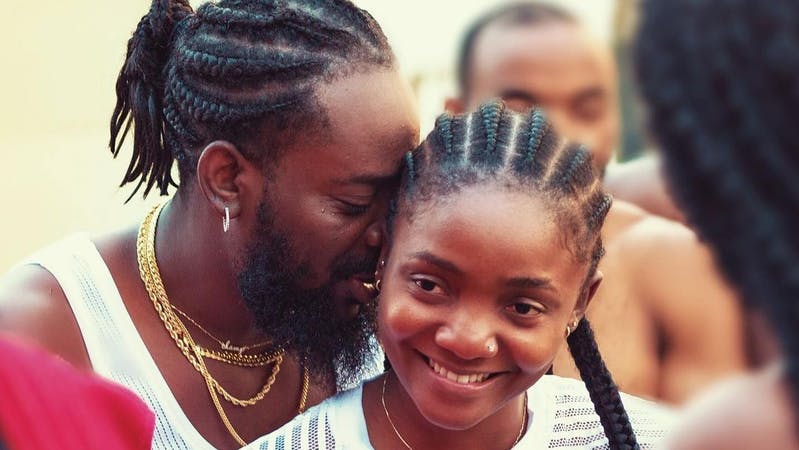 The music couple got married privately on January 9 2019 after dating for five years.
In 2019 speaking on his engagement with Simi alongside his new single titled 'Promise', Adekunle Gold said: "Earlier in 2018, I asked my girl of five years to be my wife. Knowing all of my imperfections and shortcomings, she said yes!
"This January, before God and our family, we vowed to do this thing called life together. To be honest, it's easy to get lost in the limelight; so we definitely have a slightly obsessive desire for a private life that belongs to just us.
"We planned on sharing a little bit of the beginning of our forever with you. Thankfully my team got Kudus on our little Island with us to capture some of these moments for you."Here is 'Promise'."
The couple finally released scenes and moments from the wedding in the collaboration titled, 'Promise'
In April 2020, Simi showed off baby bump in "Duduke" video. Although, Simi had given birth to their baby girl Adejare on May 5, 2020.