Shugatiti real name Abena Serwaa Frimpong Manso is a Ghanaian model and a video vixen who is known for exposing some part of her body in terms of her dressing not considering the occasion.
Shugatiti made her big breakthrough onto the entertainment scene just about two years ago by playing the bad girl in the photos and videos she was sharing online.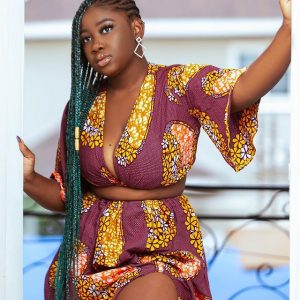 She has on one occasion or the other made a few headlines for herself on some of the popular blogs in Ghana because she decided to either show too much b0dy or cause some great amount of stir with her photos/videos.
Although there is not much around about her background, education, and family, whatever is known is sufficient to substantiate her tendencies.
Date of Birth
She was born on 16th June 1998.
Age
She is 29 years old.
Movies
Her first feature film, Fraud game, sparked up some interest as many Ghanaians wondered if Titi's nude persona would be replicated in a regular movie.
Controversies
Shugatiti in an interview on Angel TV bragged that she charges men as much as $5,000 (Ghc28, 825) before sleeping with them.
According to Shugatiti, "charges are very high and that any man who wants to sleep with her should be prepared to pay five times more of what others give to her for free".
She continued that; "Some men can just call me and give me $1000 without sleeping with me so nudity has been an enabler and I'm sticking to that career direction.
I take $5,000 and above because men give me one thousand dollars for doing nothing so I won't charge less if you want to sleep with me. I need to take good care of myself so my charges are very high".
In some of her interviews, Shugatiti has confessed that she experienced sex at a very young age.
Shugatiti also disclosed that she mastered the act of watching pornography at age 16.
This according to her was due to the fact that her stepmother who she lived with at that time was very strict and cold towards her.
About Shugatiti
Shugatiti has said she's not bothered about how people see her or say about her because of her choice of work.
According to Shugatiti, she has grown a thick skin for the backlashes and insults people threw at her because she is a nudist.
She also added that she is not bothered about the perception her parents have about her because of her job.
She stated that the only thing she thinks about right now is making money.
Fact Check
We strive for accuracy and fairness.
If you see something that doesn't look right, email us at  [email protected]