Of a love story that started in 1995 – Ghanaian Maxwell Asare Anim and his female schoolmate Ama have tied the knot in a beautiful white wedding to seal their love.
The pair acted as a couple in primary two in a play organised by their school that year.
After almost three decades, Maxwell Asare Anim and Ama have married, reliving their childhood moment as adults.
Sharing photos from the two occasions
Anim took to the Facebook group Tell It All to share a throwback photo from the play and one from their wedding. He thanked his newly wedded wife for sticking with him through "rain and shine".
"Dear Ama, I want to use this opportunity and this platform to thank you… We were in primary two in 1995 when you and I staged a play, which was organised by the school for our end-of-year anniversary. 
"Since then, we have been best friends to date. Here we are now. May God Bless our union. May God Bless you for staying glued to me in rain and shine. You are my world," he said.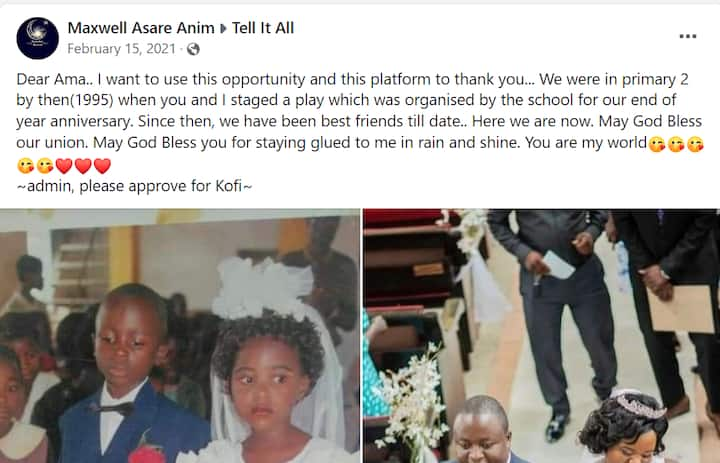 The inspiring love story has garnered massive reactions.
At the time of writing this report, the post had gained 9,000 likes, more than 2,000 comments, and over 100 shares.