A man from California identified as Ron Nessman has been hailed a hero for rescuing a baby boy in a stroller from rolling into speeding traffic has spoken out.
A viral footage showed an unidentified woman reacting in horror as her stroller starts rolling away as she gets out of her car in a parking lot in Hesperia.
As she tries to race after it, she trips and slams face-first into the sidewalk — falling again as she tried to get back to her feet as the stroller rolls in high winds toward the highway.
As the stroller appears to be just feet from fast-moving cars, Ron Nessman saw the stroller rolling directly toward the main road.
Nessman rushed off his bench and intercepted the stroller, saving the baby before the gusty high desert winds pushed him into the path of speeding cars.
Nessman, a former truck driver trying to piece his life back together, only recently moved to Hesperia to reconnect with his family after a sudden and tragic heartbreak sent him spiraling to homelessness.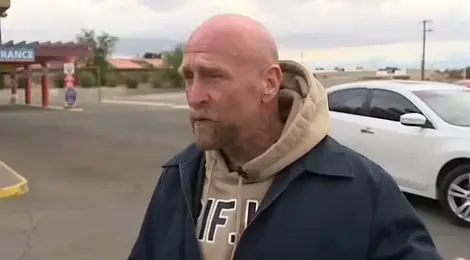 "My girlfriend passed away in 2018," he said. "It was sudden and I didn't want to do anything."
Hessman had just finished a job interview when he jumped into action.
Nessman and his family hope this will be a teachable moment for people: Always double-check that the wheels of strollers are locked.
Fact Check
We strive for accuracy and fairness.
If you see something that doesn't look right, email us at  [email protected]