In October 2017, President Joe Biden was mentioned in an email found on Hunter Biden's abandoned laptop in connection with a controversial, multimillion-dollar deal to ship natural gas from the US to China, the Daily Mail reported Friday.
In the letter dated Oct. 27 of that year, Louisiana attorney Robert Fenet told Hunter and his uncle, first brother Jim Biden, that he had secured a contact for them at Houston energy company Cherniere.
"I confirm I have requested [the contact] to be available for a call from Joe Biden and Hunter Biden on Monday morning," Fenet wrote.
It is unclear if Fenet accidentally substituted "Joe" for "Jim."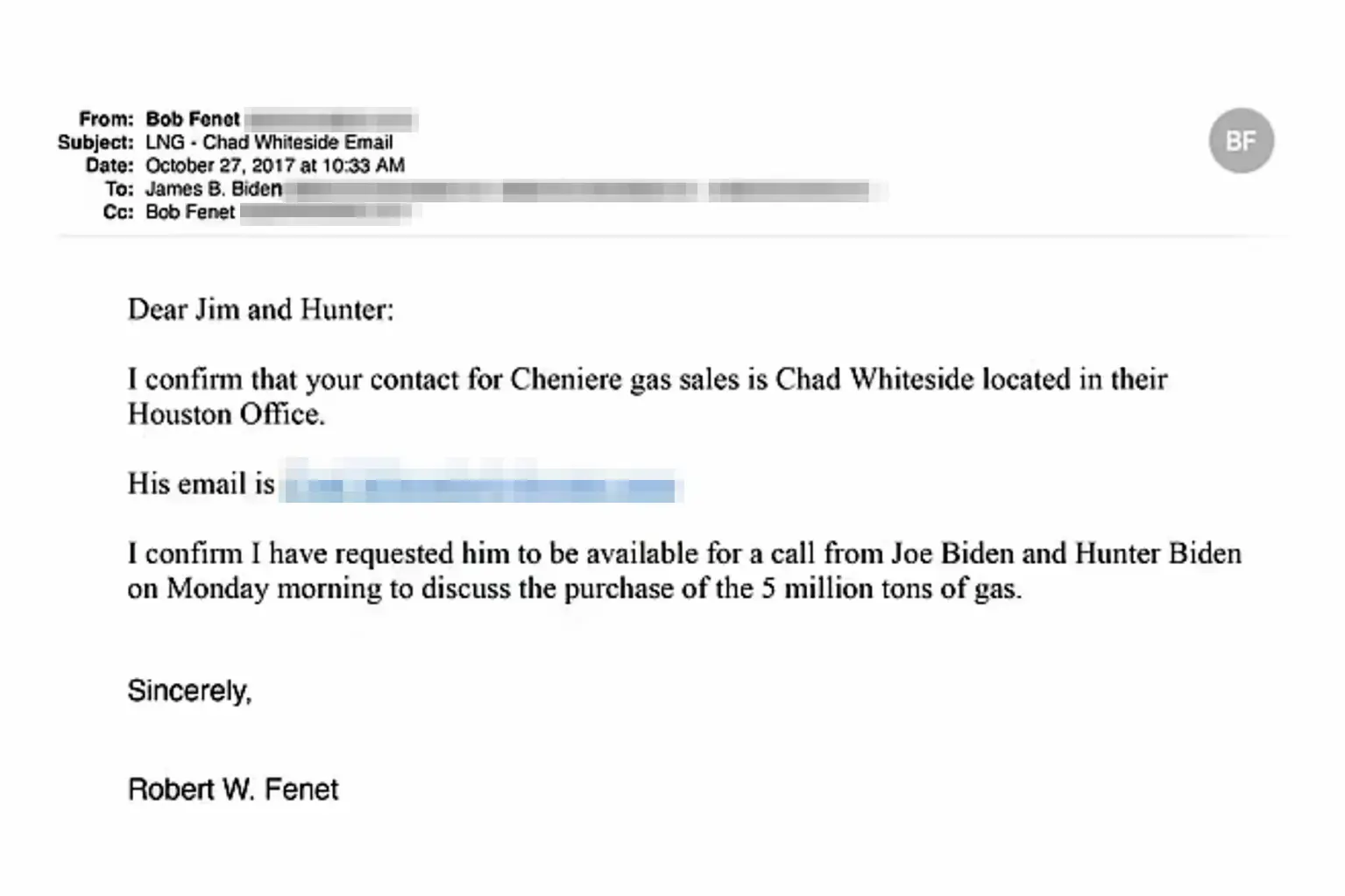 At the time the email was sent, however, Biden was the former vice president and about a year-and-a-half away from announcing a presidential run.
Although Biden has repeatedly denied involvement in his ne'er-do-well son's Chinese business dealings, records from Hunter's laptop and witness testimony suggest he was aware of, if not directly connected to, the transactions.
In emails with Fenet, Jim Biden referred to the Biden clan's involvement in the project, which involved supplying millions of tons of liquid natural gas (LNG) from Louisiana to Chinese state-backed conglomerate CEFC Energy.
Who is Robert Fenet?
Robert Fenet, a native of Lake Charles, Louisiana, is the son of the late Brent Wickliffe Fenet and the late Courtney Ashton Fenet of Lake Charles.
Mr. Fenet comes from a long line of lawyers.  His father, Courtney Ashton Fenet, graduated from LSU Law School in 1932.
His grandfather, Robert Charles Wickliffe, graduated from Tulane Law School in 1897 and was the Congressman for the 6th Congressional District in 1912.
His great-grandfather, Robert Charles Wickliffe, was a member of the Louisiana Bar and served as District Attorney of the Feliciana Parishes, State Senator, Speaker of the State House of Representatives and Governor of the State of Louisiana from 1856-1860.
His great-great grandfather was a lawyer in Bardstown, Kentucky and he was governor of Kentucky in 1823.
He served as a member of the Kentucky Legislature as  well as Postmaster General in the Administration of President Tyler.
Mr. Fenet is a graduate of Lake Charles High School, where he was Captain of the football team, a member of the National Honor Society, and a recipient of the VFW Americanism Award.
He received a Bachelor of Science Degree in Industrial Engineering from Georgia Tech, where he was a member of Kappa Alpha Fraternity.
He is a member of the American Institute of Industrial Engineers, holds a private pilot=s license (1969) , an Open Water Diving Certificate from the Professional Association of Diving Instructors (1970). He achieved expert status as a marksman on the Navy ROTC Pistol Team, scoring 23 out of 25 bulls eyes.
Mr. Fenet studied law at the Notre Dame Law School at the University of London, England, and Louisiana State University (LSU) Law School.
He received his Juris Doctorate of Law from LSU Law School in 1972.  Following Law School, he pursued post-graduate work in France, receiving the Certificat de Langue Francaise from the University of Paris (Sorbonne), and the Certificat Pratique de Langue Francaise from the University of Grenoble.
Mr. Fenet worked as a Law Clerk for the Honorable Minos D. Miller on the Third Circuit Court of Appeals, and also for the Judges of the 14th Judicial District Court in Lake Charles, Louisiana.  He has practiced law for 30 years and is presently a founding partner of the Fenet Law Firm with offices in Baton Rouge, Louisiana.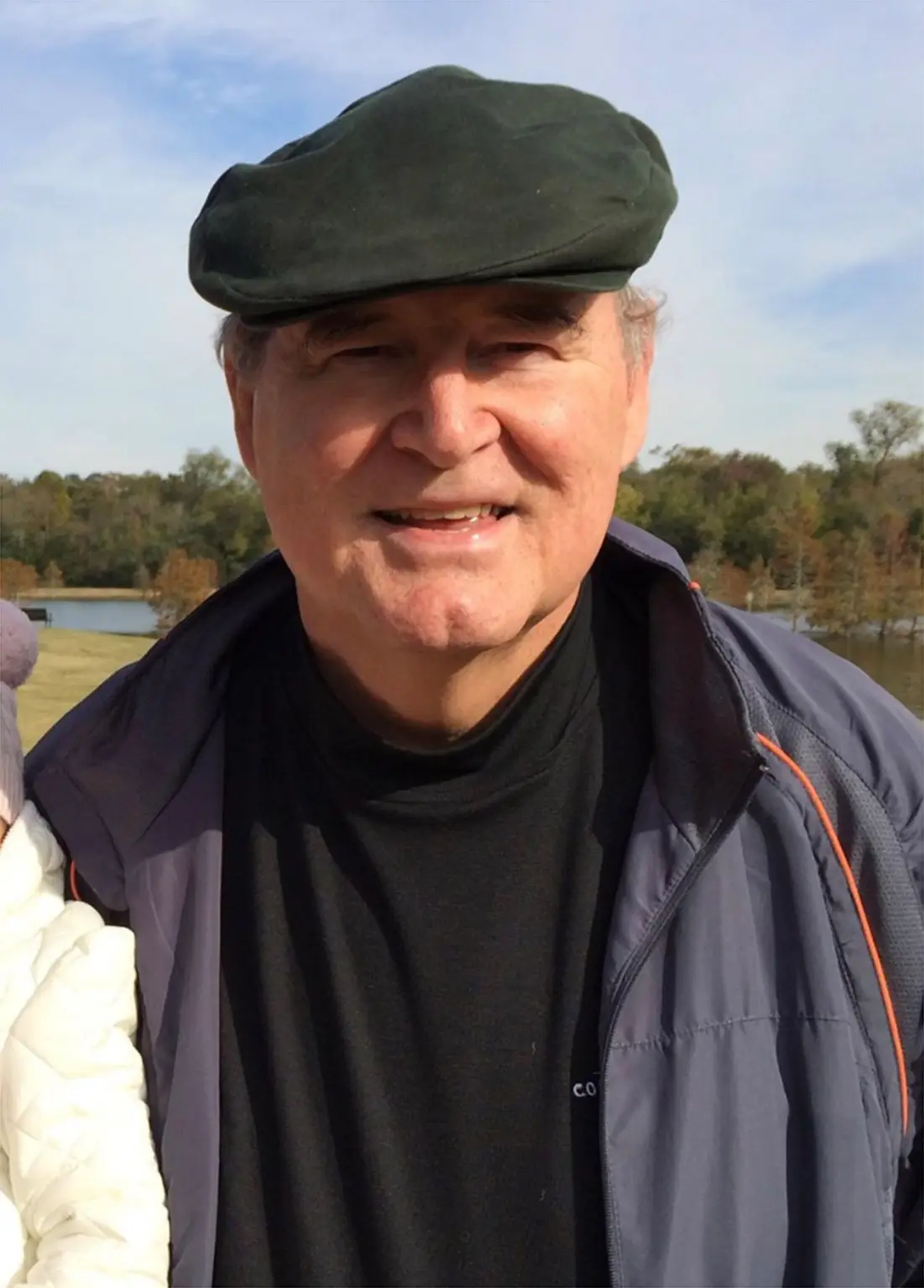 Mr. Fenet is a veteran of the litigation wars, having litigated cases from the Multnomah County Court in Portland, Oregon to San Juan, Puerto Rico, to Boston, Massachusetts to Cookville, Tennessee, to Houston Texas, to Savannah, Georgia, to Hartford Connecticut, to Tupelo Mississippi and points in between in the last 30 years.
He has over 74 reported cases on Westlaw in the appellate courts of the United States and has been admitted to practice law in the Western District, Middle District and Eastern District of the Federal Courts in the State of Louisiana, the Southern District of Texas, the Eastern District of Texas, the Northern District of Mississippi, the Eleventh Circuit Court of Appeal, the First Circuit Court of Appeal, the Fifth Circuit Court of Appeal, along with the United States Supreme Court.
He has been involved in all classes of commercial litigation, including insurance defense, maritime claims, trucking claims, admiralty, arson and fraud, and large property damage claims involving engineering defects and explosions.
He was lead counsel for Lloyds of London in the leading Katrina/Rita "Wind vs. Wave" damage case appealed to the U. S. 5th Circuit Court of Appeals.
He is a long time member of the Federation of Regulatory Counsel (FORC).  One of his insurance related specialties is regulatory work before the Department of Insurance.
His most recent activity was the acquisition of the Americas Insurance Company, a Louisiana domiciled property and casualty insurance company.
Mr. Fenet has served as a member of the vestry of the Episcopal Church of the Good Shepherd, as President and a member of the Board of Directors for the American Cancer Society, and as President of France Amerique.
He served as a delegate to the 164th, 165th, 166th and 167th Episcopalian Diocesan Convention from St. James Church.
He was a member of the Episcopal Medical Missions Foundation out of Dallas, Texas, from 1990 to 1994.  He is presently a Paul Harris Fellow of the Rotary Club.  Since 1988, he has served as a Special Assistant Attorney General for the State of Louisiana.
He served as Special Counsel to the City of Lake Charles from 1977-1983, and was an Impartial Hearing Officer for the State of Louisiana from 1978-1983.
He has served as Chairman of one of fourteen Hearing Committees for the Louisiana Attorney Disciplinary Board.
He served as Colonel on the Staff of Governor Dave Treen and as Co-Chairman of the Governor Club for Governor Mike Foster.
His four children worked as interns in the office of Senator John Breaux in Washington DC.
His family has been in the road construction business in Louisiana since 1945 through R.E. Heidt Construction Company and Fenet, Inc.
He serves as General Counsel and Secretary Treasurer of both corporations.
He is active in venture capital projects and was one of the drafters of Senate Bill 320, the fore runner of the CAPCO legislation.
He is chairman of the Board of Directors of the Louisiana-London Churchillian Society and Chairman of the Board of Trustees of the Louisiana Venture Capital Association.
Mr. Fenet is a member of the American Bar Association, Louisiana State Bar Association, and the Baton Rouge Bar Association.
He holds memberships in the British Association of Average Adjusters, London Maritime Arbitrators Association, U.S., Southeastern Admiralty Law Institute, Union des Avocates Internationale, National Association of the Professional Surplus Lines Offices, Ltd. (NAPSLO), and the Louisiana Surplus Lines Association.
Mr. Fenet is a member of the Southeast Admiralty Law Institute and a Proctor of Admiralty with the Maritime Law Association of the United States.
Fact Check
We strive for accuracy and fairness.
If you see something that doesn't look right, email us at  [email protected]