With the current wild attacks on certain pastors from the honorable Member of Parliament for Assin- Central, Hon. Kennedy Agyapong, many Ghanaians are now on the lookout for the 'fake pastors' in our society. People have grown interested in issues relating to the 'sexcapades' of these pastors and why they take interest in numerous sexual scandals with girls.
Popular social media slay queen and official prostitute, Queen Farcadi has taken delight in adding more fire to the already burning flame by disclosing that her top clients in her line of business has been and will be the pastors of 'one man' churches.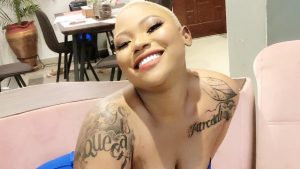 Queen Farcadi made this disclosure on Angel Tv's adult program.
Affirming her point, she stated that the pastors of these churches pay good money compared to other clients she has and so she has taken delight in making them her priority clients. Even though she chose to hide the identities behind these pastors she claims patronize her services, she mentioned that they are very top pastors and they love threesome sex. She further added that she has a management team that takes care of her bookings. 
"It's the Pastors of the one-man churches who are my clients. I've not had clients from any of these Pastors from the very old churches," she said.