A physically challenged Nigerian lady identified as Blessing Mary Ocheido, recently tied the knot with her lover, Okechukwu Victor Igwegbe.
Blessing who is a Pharmacist penned a lengthy note in appreciation of her husband whom she says has taught many things.
She took to Facebook and shared beautiful photos from their court wedding.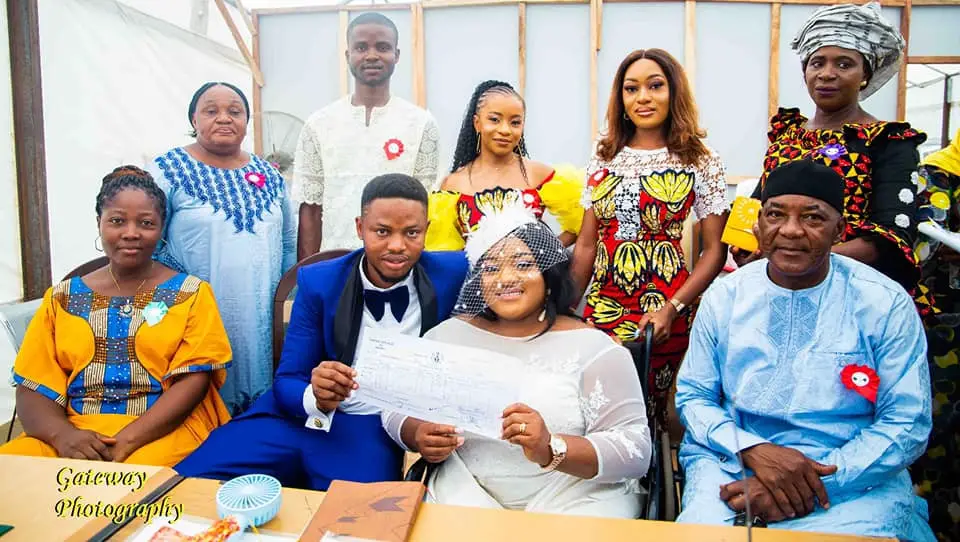 The lady wrote;
"Dear Victor, I remember sitting up one night, naming all the reasons why I want you as my partner for life because we've been intentional every step of the way. I quickly realised that the reasons were endless and so, in simple terms, you ticked all the boxes and more.
"You have taught me what it means to be truly kind and to be utterly happy and loved. I find completeness in you.
You have taught me what it means to truly love someone, to stand by them and to fight for them.
"My baby, I promise you that I will always be by your side through thick and thin. I promise you plenty beautiful memories to last a lifetime…
I promise you a formidable partnership, riveting life experiences and oodles of giddy joy. I promise you a love that is enduring and true.
I am excited about building a lasting legacy with you as we make every minute of this journey worthwhile. You are my best friend, biggest cheerleader and rock. This, I do not take for granted neither these words lightly.
"I love you my baby, my Adonis, nwoke oma.
"Your sugar baby,
"Blessing Mary"