An 8-year-old Florida girl identified as Peyton Thorsby performed at a cheer competition alone when her team did not show up and won first place.
Peyton Thorsby, a member of the K-Tech Krakens in New Port Richey, went solo in a competition at the Florida State Fairgrounds when her teammates did not show up.
Not only did she perform at the Showcase of Championships, but Thorsby also won first place in her division.
Peyton is used to being pushed up in the air by her teammates, but how she can rise to the occasion on her own is what wowed the crowd.
"I was scared about everything, and I was very nervous," Peyton said.
She was nervous because as her mom Nichole Thorsby explained when they got to the Showcases of Championships cheer competition at the Florida State Fairgrounds for their 6 a.m. call time the rest of her team, the Ktech Krakens, out of Pasco County weren't there.
"Nobody had come for whatever reasons they had had, and it ended up just being her that had shown up so her coach, Nikki, said, 'look like we might have to forfeit,'" the Thorsby's said.
Peyton had already put in the work at practice and despite her team being absent, she says she didn't want to let them down.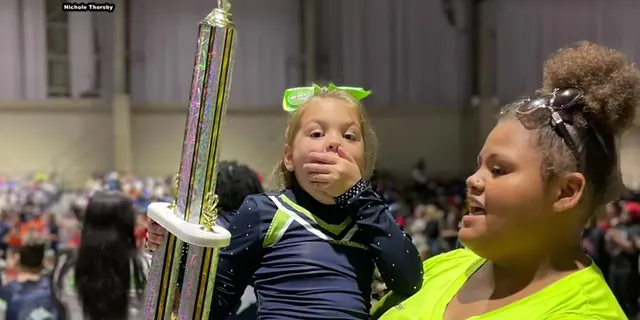 "I didn't really want my team to be disappointed of me for not going out there and not showing up for them, and so I made my decision. I wanted to go out there, and I wanted to make my family proud and all my friends proud for myself," Peyton said.
She took to the floor all alone carrying her team through the competition with a solo performance that didn't miss a beat captivating the crowd and charming the judges.
"I was actually shocked about myself. I didn't really know I could go out and do it by myself," Peyton said.
Her routine snatched up the first place trophy beating out two other teams.
"Me and her coaches were just crying our eyes out. I just couldn't believe it, but just to see her out there on her own. She's amazing," her mom said.
Fact Check
We strive for accuracy and fairness.
If you see something that doesn't look right, email us at  [email protected]