Jerold Taylor "Jay" Wright Jr., the former head coach of Villanova University, is well-known for his achievements in college basketball.
However, behind every successful man is a supportive partner, and for Jay Wright, that partner is Patricia Wright (nee Reilly), his loving wife.
Patty Reilly has been a constant pillar of support for Jay throughout his career, and their relationship is a testament to their enduring bond.
Let's take a closer look at Patty Reilly and her role in Jay Wright's life.
Who is Patty Reilly, Jay Wright's Wife?
Patty Reilly was born in Doylestown, Pennsylvania, United States.
Her roots in Pennsylvania would later play a significant role in her connection to Jay Wright.
The two first crossed paths during their college years in 1983.
Patty was a cheerleader at the time, and fate brought them together.
Their shared experiences and mutual interests laid the foundation for a strong connection that would shape their lives.
A Lifelong Partnership
After graduating from college, Patty and Jay decided to embark on their journey together.
They exchanged vows and officially became husband and wife.
Their commitment to one another has been unwavering, as they have supported each other through the ups and downs of life.
Patty Reilly & Jay Wright's children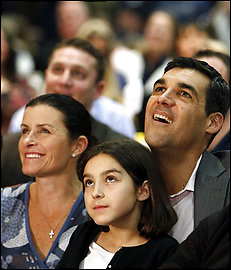 Patty and Jay are the proud parents of three children.
Their eldest son, Taylor, pursued his education at Brown University, where he studied public policy.
Following his graduation, Taylor found his place within Villanova's baseball program as the Director of Operations. His involvement in the program showcases the family's shared passion for athletics.
Collin, their middle child, completed his studies at Fordham University in 2016.
He has since established a professional career at Vanguard, a prominent investment management company.
Collin's achievements reflect the values of dedication and hard work that Patty and Jay have instilled in their children.
The couple's youngest child, Reilly, is currently enrolled at the University of Pennsylvania.
Reilly's sorority involvement demonstrates her active participation in campus life. Moreover, she has found a role as a ball girl for the Phillies, further showcasing the family's connection to the world of sports.
Support and Presence
Throughout Jay Wright's illustrious coaching career, Patty has remained a constant source of support. Her presence at games and events has been a familiar sight for Villanova fans.
In moments of triumph and celebration, Patty has stood by her husband's side, sharing in the joy of victories and accomplishments.
One notable occasion that highlighted Patty's support was when Villanova secured the 2018 NCAA Tournament championship by defeating Michigan.
Patty was present that Monday night, witnessing the team's success firsthand and reveling in the fulfillment of Jay's coaching journey.