Okesse 1 , Biography
Okesse 1 real name Frank Nanah Afrane is a fast-rising hip hop artist from Ghana.
He is best known for his 2020 single Yie Yie. 
Yie Yie is considered a pivotal contribution to the emerging drill scene which started in Ghana's Ashanti regional capital of Kumasi.
Soon after its release, 'Yie Yie' topped the chart on Boomplay 's Top 100.
Currently, the visuals for Yie Yie has 749,693 views on youtube,5 months after its release.
Watch Video
He is the CEO of Amotia Geng a group under Criss Waddle and Medikal's AMG Business.
Education
He had his secondary school education at Anglican Senior High School, Kumasi, and later proceeded to University Cape Coast ( UCC ) to study business administration.
He graduated from UCC in the year 2019.
Mansion
Okese 1 who says he owns a phone dealing business in California and also into real estate business in Ghana lives in a said $1m Mansion in Kumasi.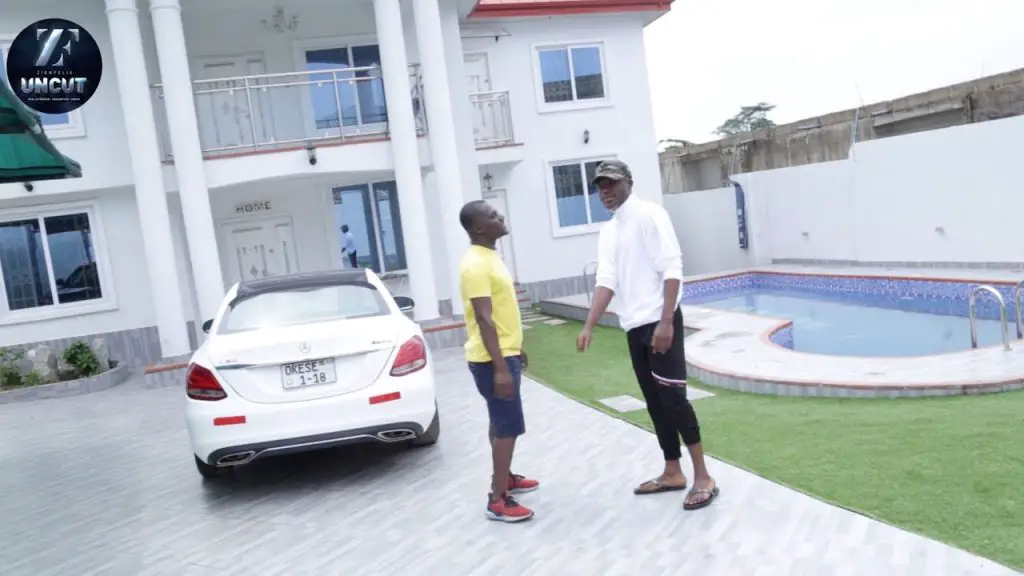 He made this revelation in one of his interviews with Zionfelix.
The $1m 7 bedroom mansion is equipped with a studio, a swimming pool with his name engraved in it and a private movie room.
He loves to show off his extravagant lifestyle on his Instagram handle.
Watch interview below
Controversies
On 10th February 2021, radio presenter Andy Dosty sacked Okesse 1 from Hitz Fm during the Day Break Hitz show over a complaint that he acted rudely.
During the interview, Andy asked "massa is everything OK?" and Okesse 1 replied, "why are you asking that". Andy was shocked at his response and asked why he asked him a question in return and he faintly said: " cause I am good".
The encounter threw the radio presenter off when he said "but how do I tell you are good, am I a doctor?" and Okesse 1 responded saying that " errh what shows I am not good?"
Andy Dosty then explained that "but whoever comes here I asked if you are good or not, what is wrong with that?" before Okesse 1 said that "then I didn't get how you were trying to say it".
However, at this point, Andy could hold himself and asked the up and coming rapper to leave his studio. "What is happening here, I don't understand, I am sorry, no, I want to understand" angry Andy said.
In Okesse 1's defense, he replied "no I think you misunderstood me" and Andy detailed that "because you walked into my studio without saying anything, you walked in late, you didn't say anything to me, you came you sat quietly and you are asking me why I asked if you are ok".
"Please walkout from my studio now, I am sorry please now. please out, I don't entertain rudeness" he added
More update soon …
Fact Check
We strive for accuracy and fairness.
If you see something that doesn't look right, email us at  [email protected]