Mzvee Biography
REAL NAME: Vera Hamenoo-Kpeda
DATE OF BIRTH/AGE: 23 June 1992 
MARITAL STATUS: Not Married
Vera Hamenoo-Kpeda (born on 23 June 1992) better known by her stage name MzVee, is a Ghanaian afropop, dancehall and R&B artiste. Her award-nominated debut solo album features several hit singles including Borkor Borkor, Natural Girl and Dancehall Queen. MzVee is signed to the award-winning record label Lynx Entertainment and was the winner of the New Artiste of the Year award at the 2015 Ghana Music Awards.
Early life
MzVee was born in Accra to Ernest Hamenoo-Kpeda, a businessman, and Florence Hamenoo-Kpeda, a caterer. She has 2 older sisters and a brother and attended St Martin de Porres School in Accra in her early years. She moved on to St Mary's Senior High School and is now studying Business Administration at Ghana Telecom University.
Music career
2012 – 2013: Early beginnings
MzVee first burst onto the Ghanaian music scene in the summer of 2012 as the lead singer of Lynx Entertainment's girl band D3. The band, released hit singles such as 'Good Girls Gone Bad' and 'Gyani Gyani' before splitting at the end of 2013 due to educational commitments of the young group members.
2014 – present: Breakthrough
MzVee launched her solo career with debut single 'Borkor Borkor' released in January 2014. She followed this with hit single 'Natural Girl' and went on to win the 'Unsung Artiste Award' at the 2014 Ghana Music Awards. Her debut album was released in November 2014 and features collaborations with several award winning artistes such as Stonebwoy, VIP, Shatta Wale, Richie Mensah, Manifest and Didier Awadi.
Mzvee Biography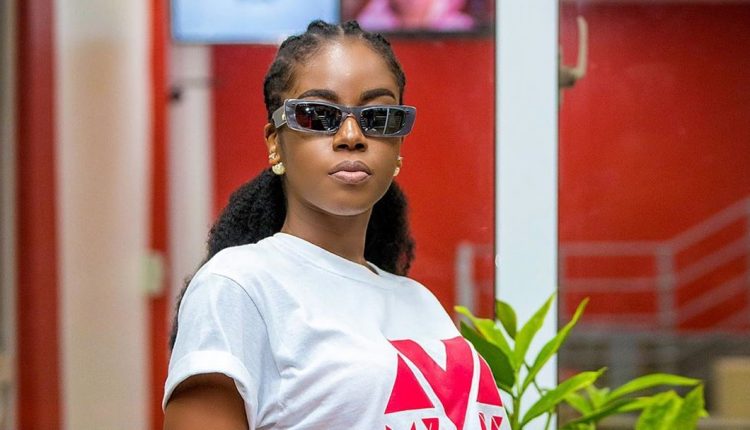 MzVee is an award-winning Ghanaian musician who has won multiple awards in her first year as a solo artist, which include New Artiste of the Year at the 2015 Ghana Music Awards, and Most Promising Act at the 2015 Ghana Music Honours. She has several hit singles including 'Borkor Borkor', 'Natural Girl' and 'My Everything'.  Her music style is a perfect blend of Afro-Pop, Dancehall and R&B.
Many of her earlier songs have towed the line of the dancehall genre but MzVee surprised her 'tip toe following' with a beautiful highlife song in July 2014 which featured reigning artiste of the year Shatta Wale – proving again that she can rub shoulders with the best in the business. The dashing songstress also has many other songs in her repertoire such as 'Carpenter,' 'Gimme Dat,' Revolution, Format, Boomerang and crowd favourite 'Re-Vee-lation' which was specially recorded for her fans and happens to be the title of her debut album.
The launch of her album in November of 2014 was described as the culmination of her hard work throughout the year and a clear manifestation that she had become a mainstay in the Ghanaian music industry. The 'Re-Vee-Lation' album launch took place at the car park of the Accra Mall and was heavily patronized by a crowd of over five thousand avid fans and MzVee did not disappoint as she put on a thrilling performance with a host of other musicians and celebrities.
Mzvee Biography
MzVee's music contains elements of afropop, R&B and dancehall and her strong vocal abilities earned her a nomination for 'Female Vocalist of the Year at the 2015 Ghana Music Awards and the award for 'Most Promising Act' at the 2015 Ghana Music Honors. She is regarded as one of the stars of Ghana's dancehall scene and received the award for 'Best Female Vocalist of the Year at the 2015 Ghanaian dancehall awards, BASS awards. Her trademark natural African hair and hit single 'Natural Girl' has made her an inspiration to young girls across Africa who want to celebrate their natural look.
MzVee's impressive rise to the top continues with a nomination in June 2015 in the 'Best International New Artist' category at the BET Awards 2015. This brand new fan-voted category celebrates rising stars from across the channel's international footprint.
Fact Check
We strive for accuracy and fairness.
If you see something that doesn't look right, email us at  [email protected]