The Canadian authorities were looking for two "armed and dangerous" suspects after a stabbing spree in an Indigenous community and a nearby village in the province of Saskatchewan left at least 10 dead and 15 others injured on Sunday.
The Royal Canadian Mounted Police in Saskatchewan said in a statement that "multiple" victims had been attacked at random in several locations across the James Smith Cree Nation and the village of Weldon.
The police warned residents in the area around Regina, the provincial capital, to shelter in place.
Who are the suspects?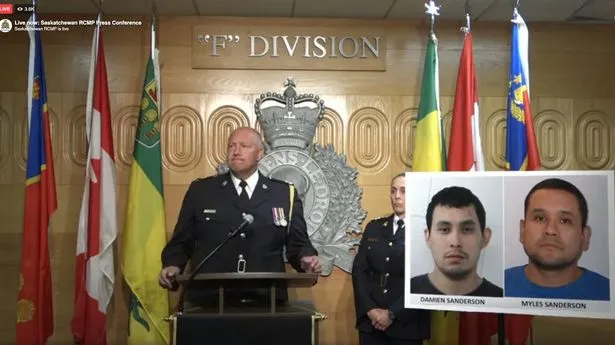 Damien Sanderson, 31, and Myles Sanderson, 30, were named as the suspects and are currently on the run following the violent stabbings, police said.
Damien Sanderson, was described as five feet seven inches tall and 155 pounds, and Myles Sanderson, as six-foot-one and 200 pounds.
Both have black hair and brown eyes.
Damien and Myles are believed to have stabbed 25 people in the indigenous reserve of James Smith Cree Nation and in the nearby village of Weldon, northeast of the city of Saskatoon, southern Canada.
The armed suspects reportedly fled the scene in a black Nissan Rogue SUV which has since been spotted in Regina, a city about 208 miles south of the communities where the stabbings occurred, police said.
What happened?
Police received the first report of a stabbing on the James Smith Cree Nation at 5:40 a.m., and within minutes several more calls came in reporting other stabbings throughout the community, police said.
Within hours, the situation developed into a mass stabbing event with at least 25 victims, 10 of whom died, police said.
Three helicopters from STARS Air Ambulance were dispatched to James Smith Cree Nation during the attack, company spokesperson Mark Oddan told CNN. The first crew to arrive jumped into triage the victims and the second aircraft brought a physician to help with triage and lead the emergency response, he said.
The helicopter crews took some victims to the Royal University Hospital in Saskatoon and several other patients were brought to local hospitals by ground ambulances, Oddan said.
He was not able to provide details on the patients or their conditions.
Multiple dangerous persons alerts were issued by police over the course of the morning, expanding across the Saskatchewan province and into neighboring Manitoba and Alberta.