Medikal And Fella Makafui Tattoo
The pop culture behavior is sinking into Fella Makafui so she's gone to get inked as the culture demands.
The actress showed off the new job done today and it's the half face of a lion with the other face on her husband's hand.
According to Fella, everyone who knows her knows she's a lioness, hence, her choice for a lion face art.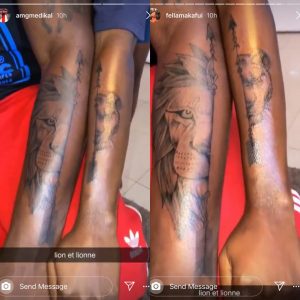 That's so true because the Lion always goes for what it wants if even it's the last feed a dolphin is feeding on.
Another good thing is that, there's more space to continue the work later just in case Medikal takes the other half face somewhere else.
Watch Video Below
Medikal And Fella Makafui Tattoo