Ginger Luckey Gaetz is the wife of Republican U.S. Representative Matt Gaetz of Florida.
She is a food analyst from southern California and works with a firm that focuses on extending the life of products made from plant-based materials.
Let's see what we can dig out about Matt Gaetz's wife, shall we?
What is Ginger Luckey Gaetz's background?
Luckey was born in 1995 and grew up in Southern California.
According to her LinkedIn profile, Ginger graduated from the University of California, Santa Barbara, in 2016 with a degree in economics and accounting.
After college, she worked as a business analyst for a number of companies.
She later enrolled at Harvard's online business school and study sustainable business strategy.
What is Ginger Gaetz's public persona?
Luckey is a relatively private person and does not often appear in the public eye.
However, she has made some public appearances with her husband, including at a screening of the film "Barbie" in 2023.
How did Ginger Luckey Gaetz and Matt Gaetz meet?
The couple met at Mar-a-Lago, former President Donald Trump's Florida resort, in March 2020.
Donald Trump threw a fundraiser at the time, and Ginger said her mother "dragged" her to the event.
Gaetz proposed to Luckey at Mar-a-Lago in December 2020.
Matt Gaetz and Ginger Luckey Gaetz married life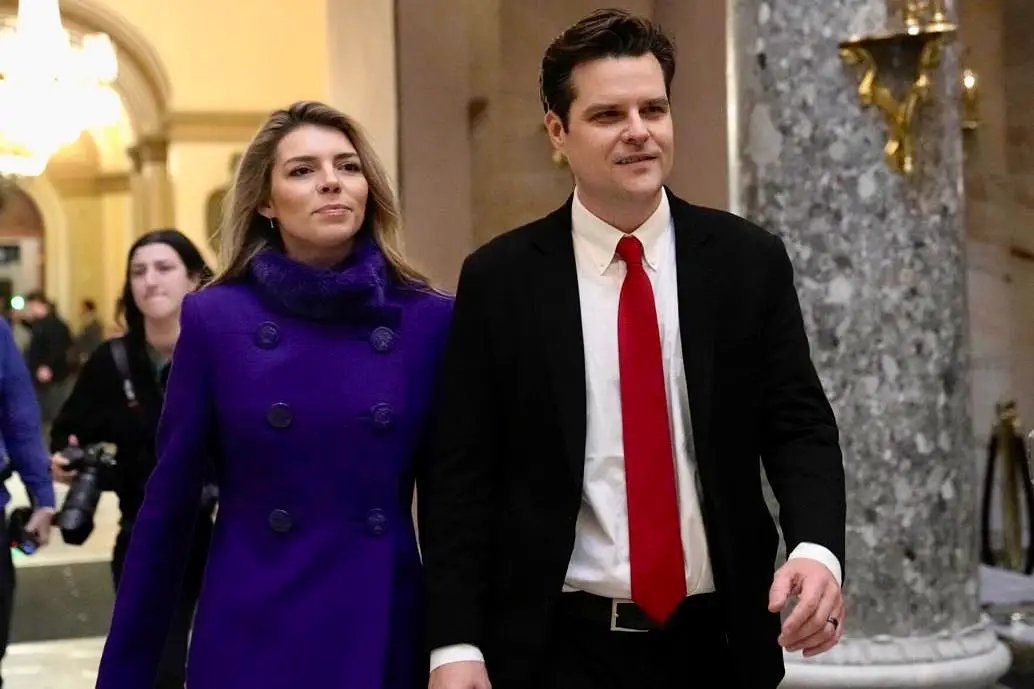 Matt Gaetz and Ginger Luckey Gaetz married in August 2021.
The ceremony was attended by nearly 40 people and was officiated by Sergio Gor, a former staffer for senator Rand Paul.
The wedding was attended by 40 guests, including Ginger Luckey's brother Palmer Luckey, the founder of virtual reality company Oculus VR.
The firm was sold to Facebook for $2bn in 2014.
Who is Ginger Luckey's brother, Palmer Luckey?
Earlier, we mentioned that Ginger's brother, Palmer Luckey is founder of virtual reality company Oculus VR.
He is also an ardent donor to the Republican Party, per OpenSecrets, a research and government transparency group that tracks money in politics.
Last October, Palmer hosted a fundraiser for President Trump after having reportedly donating thousands to his 2016 campaign.
What are some controversies surrounding Ginger Luckey Gaetz?
Some people have criticized Luckey for her association with her husband, who has been accused of a number of ethical and legal violations.
In 2008, Gaetz was arrested for driving under the influence as he was driving back from a nightclub on Okaloosa Island, Florida.
Police recorded him driving 48 mph (77 km/h) in a 35 mph (56 km/h) zone and noted that he showed physical signs of intoxication.
 Gaetz initially denied that he had drunk alcohol, but later admitted to drinking two beers.
He failed an eye test twice, then declined field sobriety tests.
After Gaetz was arrested, he refused to take a breathalyzer test.
In June 2020, following an argument with then-Representative Cedric Richmond, Gaetz said he had been living with a 19-year-old immigrant from Cuba, Nestor Galbán, since Galbán was 12, and considered Galbán his son.
He later clarified that Galbán is the brother of an ex-girlfriend of Gaetz's and that Galbán spends time with his sister, with Gaetz's family, and with Gaetz.