On Monday, 8th August 2022, former President of the United sates of America, Donald Trump revealed that the FBI "raided" his home at Mar-a-Lago in Florida and even cracked his safe.
The motive for the FBI raid was because, it has been alleged that Trump took classified information with him from the White House to his Palm Beach resort in January 2021.
Trump also claimed in a written statement that the search — unprecedented in American history — was politically motivated, although he did not provide specifics.
"These are dark times for our Nation, as my beautiful home, Mar-A-Lago in Palm Beach, Florida, is currently under siege, raided, and occupied by a large group of FBI agents," Trump said in a lengthy email statement issued by his Save America political committee.
Trumps Mar-a-Lago Estate: Meaning, cost and date of establishment
According to Cosmopolitan, Mar-a-Lago is Spanish for "sea to lake".
The mansion was constructed between 1924 and 1927, at the cost of $7 million.
Heiress Marjorie Merriweather Post had it built after inheriting $250 million at 27 from her father, Charles William Post. He was the owner of the Postum Cereal Company.
After her passing, the mansion was given to the government as per Post's will. It was declared a U.S. National Historic Landmark in 1980, but the government returned the mansion to Post's daughters as the annual maintenance would cost up to $1 million.
The sisters then decided to auction it and that's when it caught Trump's eye.
How much did Trump by the Mar-A-Lago estate?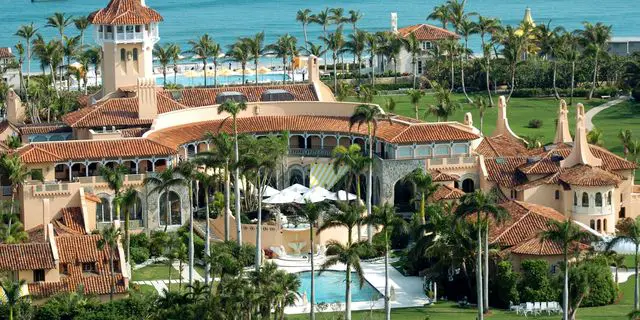 Trump bought Mar-A-Lago from the Post daughters for $5 million and paid an additional $3 million for the heiress's antiques and furniture.
As for the features of the extravagant property, it is believed to be "hurricane resistant," according to its official site.
Stretching across 20 acres, it comes with garden and ocean views. The Trump International Golf Club is a five-minute drive from the mansion.
"Since purchasing this landmark in 1985, the Trump family has spent many weekends and holidays at their home away from home," it states.
Fact Check
We strive for accuracy and fairness.
If you see something that doesn't look right, email us at  [email protected]