The Lawyer of the Head Coach of the Ghana Black Stars, CK Akunnor had some pretty strong words for the Kotoko management after the dismissal of the club's appeal.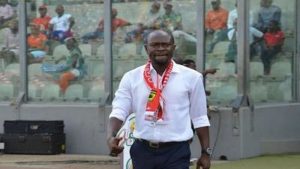 Prosper Yaw Ntow, who is the lawyer of CK Akunnor, did not hold back after Kotoko eere instructed to pay his client the money owed him.
CK Akunnor was sacked as manager of the Ghanaian club last year after guiding the club to te group stages of the CAF Confederations Cup.
The decision to sack him was widely criticised by the general public and his replacement, Kjetil Zachariassen, did very little to help matters.
Payment of the compensation owed him became an issue which led to a court case. However after the ruling in favour of CK Akunnor, his lawyer has had this to say to the management of Asante Kotoko:
"Kotoko will pay almost GH 400,000 to former Coach C.K Akonnor after losing the appeal case at the appeals committee of GFA.
"Coach Akunnor is entitled to that amount, Kotoko must abide by the laws of the game"  
"Kotoko's problems are caused by the management, the way things are managed in the club [is really affecting the team}".
"As a club, you have to consult and listen to your lawyer in taking decisions, you cannot act, commit and create before you consult him", he concluded.
CK Akunnor has since been appointed the head coach of the senior national team, the Black Stars and is scheduled to manage his first game at the end of the month.