A young Nigerian lady identified as Toyosi is trending on Twitter after she claimed to have been kidnapped and raped.
She had taken to the microblogging platform on Thursday morning to raise an alarm over her apparent kidnap.
Toyosi posted the address of where she was supposedly being held against her will and the phone number of the suspect.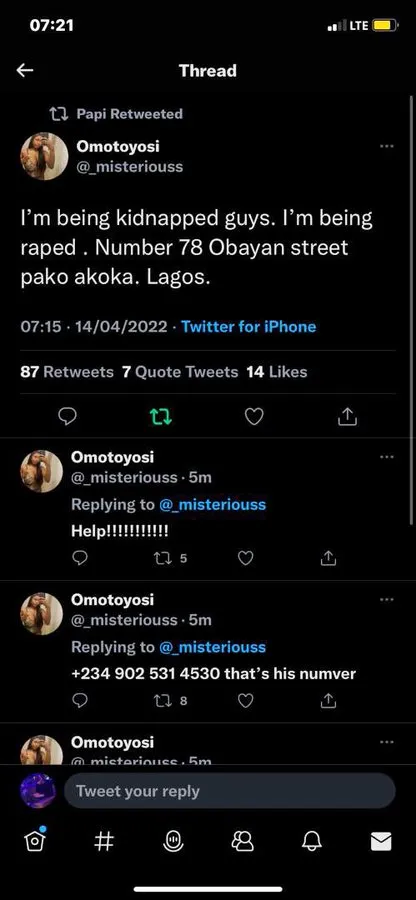 Nigerians on social media expressed worry and contacted police which swiftly stormed the premises.
However, moments after police arrived, she took to Twitter again and shared a tweet as well as a video where she told people to disregard her earlier post.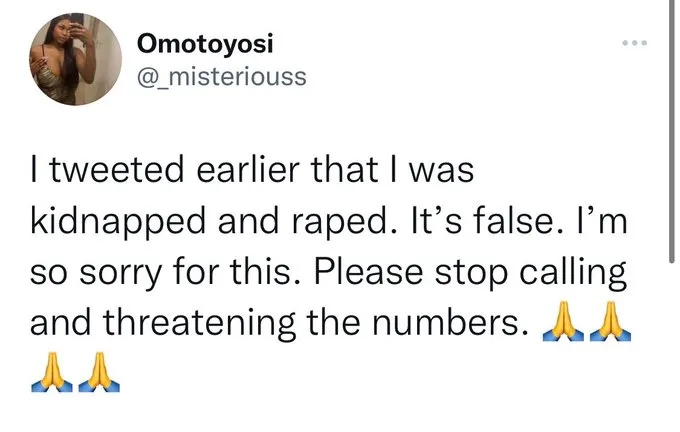 But there were series of conflicting reports as some said she was clout-chasing and others opined that she may have released the video under duress.
Hours later, it was reported that Toyosi confessed to chasing clout with the rape and kidnap allegation.
She is said to have been arrested by police officers and arraigned in court on charges of disturbing the peace and false alarm.
"Toyosi the alarmist, who twitted today that she is being kidnapped and raped, has been arrested by the Lagos state police command. She will be arraigned before a Lagos court, for disturbing public peace," a tweet read.
Another Twitter user said; "So she has been arrested and will be arraigned on charges of disturbing the peace and false alarm
If found guilty, could spend up to 1 yr in prison."
Toyosi the alarmist, who twitted today that she is being kidnapped and raped, has been arrested by the Lagos state police command. She will be arraigned before a Lagos court, for disturbing public peace. @AfamDeluxo @FS_Yusuf_ @General_Oluchi @UchePOkoye @von_Bismack pic.twitter.com/ANg4STgpws

— 99% OPPRESSED (@Truthfully83) April 14, 2022