Kristie Haas, a 31-year-old woman from Delaware, has pleaded guilty to the murder of her 3-year-old daughter, Emma Grace Cole.
Kristie Haas confessed to killing her daughter and then dumping her burned remains on a softball field.
The plea came as part of a negotiation with prosecutors, who are recommending a sentence of 50 years in prison for the murder charge, with non-custodial supervision after 30 years.
Haas also pleaded guilty to abuse of a corpse and endangering the welfare of a child.
Background and Charges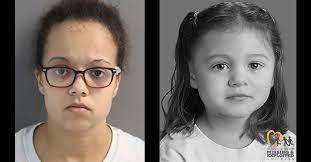 The body of Emma Grace Cole was discovered in September 2019 by a person walking a dog through Smyrna-Clayton Little Lass Fields, a softball park near Smyrna Middle School in central Delaware.
It is believed that Emma had been dead for several weeks before her remains were found. At the time, she lived with her parents and siblings less than a mile from the ball field.
Haas and her husband, Brandon Haas, who was Emma's stepfather, were arrested in Pennsylvania in October 2020, more than a year after the child's body was discovered.
Initially, they were indicted on charges of child abuse, child endangerment, hindering prosecution, and misdemeanor child endangerment involving Emma's death and her siblings.
However, the charges were later upgraded to include two counts of murder against Kristie Haas.
Authorities allege that Haas and her husband withheld food and medical care from Emma, subjected her to "torture or maltreatment," and engaged in excessive forced exercise and inappropriate physical discipline, not only towards Emma but also towards her siblings.
Guilty Plea and Sentencing Recommendation
During the court hearing, Kristie Haas repeatedly acknowledged her understanding of the charges and the consequences of her guilty plea.
The Superior Court Judge Noel Primos accepted her plea but deferred sentencing until July 10, allowing time for Emma's relatives to attend the proceedings.
The sentencing recommendation from prosecutors is 50 years in prison for the murder charge, with non-custodial supervision after 30 years.
However, the judge has the discretion to deviate from this recommendation.
Mental Health Evaluation and Contact with Other Children
As part of the sentencing process, prosecutors are recommending a mental health evaluation for Haas, who is already being treated for bipolar disorder and depression.
The defense and prosecution are at odds over whether Haas should be prohibited from having any contact with her three other children.
Prosecutors argue for a complete ban, while the defense suggests allowing contact pursuant to court orders.
Fact Check
We strive for accuracy and fairness.
If you see something that doesn't look right, email us at  [email protected]