Kitty O'Neil is the subject of Today's Google Doodle on what would have been her 77th birthday – we remember the legendary stuntwoman
For nearly 25 years, Google has been educating people around the world about significant dates and notable figures from history.
A special Google Doodle of the site's logo is created by an artist for the search engine's homepage each day.
It remains on the homepage for a brief time, while the event or honoree is celebrated.
Kitty O'Neil: Remembering legendary stuntwoman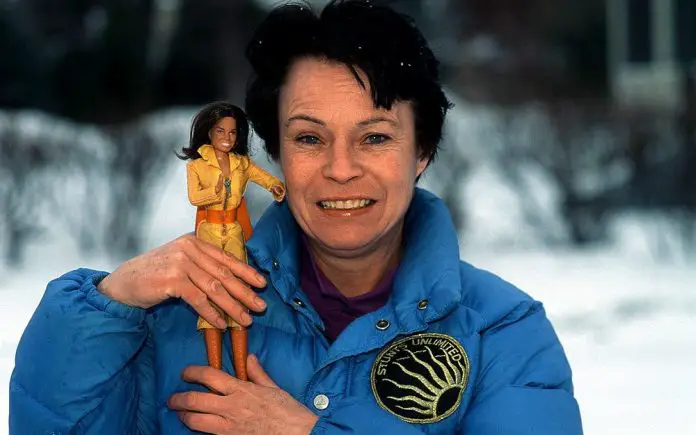 Kitty O'Neil was a renowned stuntwoman and speed racer, whose accomplishments were numerous and impressive.
Her acting credits included appearances in various films such as The Blues Brothers, Smokey and the Bandit II, the Omen II, and Airport '77.
She even performed stunts in a television movie about her own life story, Silent Victory: The Kitty O'Neil Story, standing in for star Stockard Channing.
Throughout her career, O'Neil accomplished many remarkable feats.
She was set on fire multiple times and was the first woman to successfully perform a 'cannon-fired car roll', a dangerous stunt in which an explosive charge is placed underneath a car to make it roll over repeatedly.
O'Neil's work as a stuntwoman led her into the world of speed racing, and in 1976, she set the land-speed record for women, which still stands today.
She accomplished this by traveling at an average of 512mph through the Alvord Desert in Oregon in a rocket-powered car called The Motivator.
In total, she set 22 records, including world speed records on water, with a jet-powered boat called Captain Crazy, and on water-skis at 105mph.
Despite losing her hearing when she was just four months old, O'Neil was an accomplished athlete, including being a champion three-meter and platform diver, racing boats, motorbikes, and dune buggies.
She even had a Barbie doll made in her image, complete with a yellow jumpsuit and helmet.
O'Neil was also the first woman to join the Hollywood stunt agency Stunts Unlimited, and she performed several famous stunts during her career, including plunging headfirst from the top of the Valley Hilton hotel in Los Angeles in 1979, dressed as Wonder Woman, and breaking the high-fall record in 1976 by jumping out of a helicopter at a height of 180ft without a parachute.
Unfortunately, O'Neil's hopes of competing in the 1964 Summer Games in Tokyo for the diving team were dashed when she broke her wrist and contracted spinal meningitis, which threatened to paralyze her. Later, in 1978, while filming a TV show, she flipped a rocket-powered Corvette while attempting to set a quarter-mile speed record in the Mojave Desert in Nevada.
Kitty O'Neil passed away in South Dakota at the age of 72, leaving behind a legacy of groundbreaking accomplishments in the worlds of stunt work and speed racing.
Fact Check
We strive for accuracy and fairness.
If you see something that doesn't look right, email us at  [email protected]