A bat-wielding suspect who attacked a man on a New York City street has been identified as 36 year old, Karim Azizi.
Karim Azizi was arrested from his house in Harlem on Wednesday morning – just around the corner from where he is accused of attacking a 47-year-old man last Tuesday.
The arrest came after police released video footage of the brutal incident which shows the suspect walking behind the victim outside a Chinese takeaway Golden Wok on 1770 Amsterdam Avenue.
Details of what happened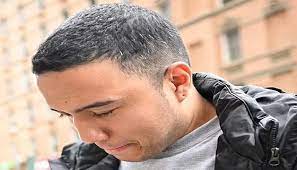 Police sources have said the shocking crime was sparked by a previous verbal argument between the suspect, Karim Azizi and victim.
Footage of the attack released by police Saturday showed the 47-year-old victim, who is homeless, getting smashed in the head and knocked to the sidewalk.
Karim Azizi appeared to first adjust the bat in his pants, with the handle covered by his sweatshirt, before walking up to the victim from behind.
He can be seen taking a hard swing at the victim, who tumbled to the ground and rolled around in pain.
Karim Azizi then walked away before shortly returning to taunt the man on the ground before making off for good.
The victim was rushed to a hospital in Harlem with a gash to his head and bruises but was in a stable condition after the attack.
Charges
Currently, Karim have been charged with assault, attempted assault and criminal possession of a weapon.
Fact Check
We strive for accuracy and fairness.
If you see something that doesn't look right, email us at  [email protected]