Jared Michael Boyce, one of the Patriot Front extremists has been kicked out of his mother's house after his arrest with dozens of white nationalists allegedly conspiring to provoke violence at an Idaho LGBTQ+ pride event.
According to dailymail.co.uk, Jared Michael Boyce was kicked out of the house by his mother Karen Amsden, after he was shown rioiting at an Idaho Pride march online even though he told her not to 'believe the media.
Karen Amsden, mother of Patriot Front member Jared Michael Boyce, 27, who lives in Springville, Utah, made her mind up after 31 Patriot Front members were arrested with riot gear at the LGBTQ+ event after a tipster reported seeing people loading up into a U-Haul like 'a little army' at a hotel parking lot in Coeur d'Alene, Idaho, police said.
Among one of the arrestees was Boyce, who has struggled to fill 'a void' in his life following his father's departure from his family after he came out as gay, his mother Karen Amsden told the Daily Beast.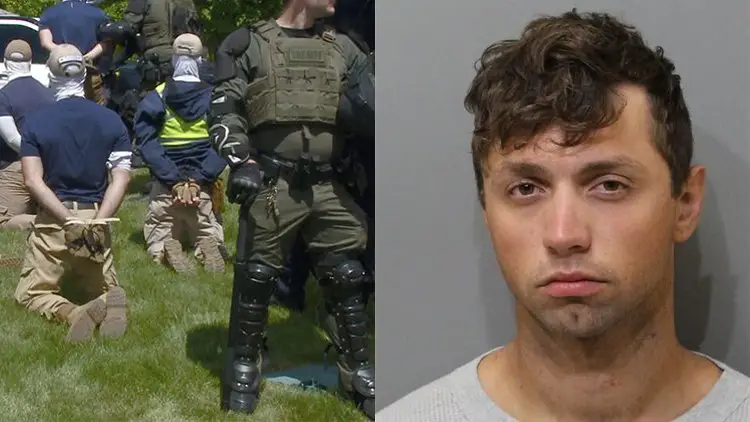 The mother-of-one, who is a licensed clinical social worker, admitted that she is going public with her coup to sabotage of her son's standing in the group after previous attempts to persuade him to leave the far-right group have failed.
'I would love to do whatever I can to out him [as a Patriot Front member] so that he can't be a part of it,' Amsden said. 'And that they don't want him to be a part of their group because his mom has loose lips and a big mouth and he's never going to get away with anything.' 
She confessed that ever since her son was released from jail, he told her that he would stay on with the group and therefore provided him with one final warning.
'I told him, 'Well, then you can't live here. You can choose between Patriot Front and your family.' And he's like, 'Well, I can't quit Patriot Front.' I'm like, 'Well, then you've just chosen. So pack your stuff and get out of my house," Amsden said.