Janemena's husband, Andre Plies has allegedly broken silence following his wife's rumoured intimate affair with Prince Kpokpogri.
Recall, weeks ago, a voicenote surfaced on social media which allegedly had the voice of Prince Kpokpogri revealing his escapades with the married dancer.
The news trended for a couple of days, as the couple became a topic of discussion over the kind of union they share.
While some claimed that Andre has no right over his wife because she reportedly married him with her money, others bashed Jane for cheating on him.
However, according to an IG blog, Cutie__Juls, Janemena's husband has reaffirmed his love for his wife, stating that he is glued to his wife till death.
The post reads:
"From very reliable source, Jane Mena's husband says he is still glued to his wife till death do them part. NB- 2nd slide is a WhatsApp chat to confirm. We had to cover the chats to protect the identity of our source. But if you have Mr Plies' number, you can confirm his current DP"
See the post below: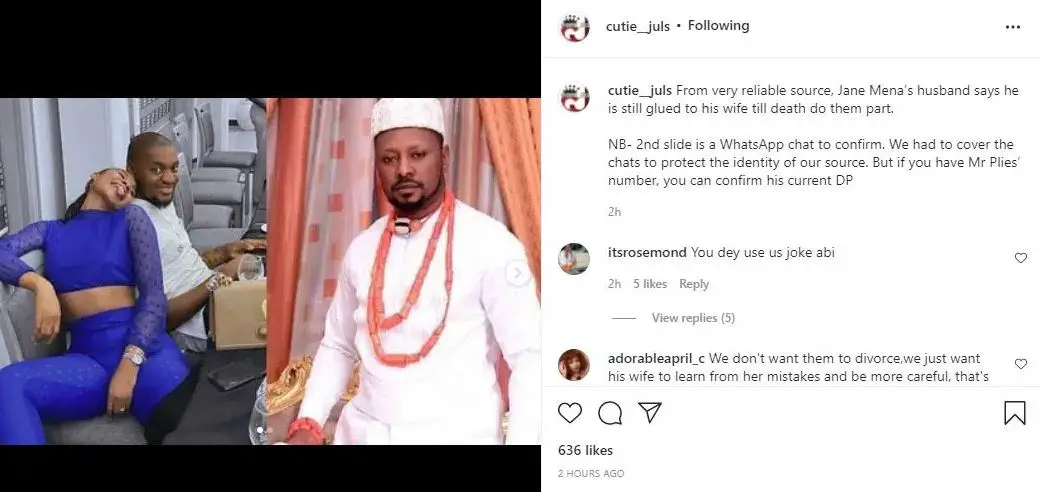 Prior to that Jane Mena fueled rumours that her marriage was on the brink of collapse after a post made about modern relationships in a post on her IG platform a few days ago.
She posited that it's sad and miserable people who don't like it when others are happy are the ones who eventually destroy relationships
Jane wrote; "To every lady who does not show off their spouse, I understand you now.
"It's not because the social media will destroy it, it's because miserable, sad, and 'not by choice' people do not like anything that makes you happy unless they are happy and it rubs off on you somehow.
"I'm a very young girl and I'm making changes to my life. But it's still the audacity for me."
She also reshared relationship advisor, Blessing Okoro's post about people wanting what others have without knowing the effort that was put in to keep it.